Be Race-Day Ready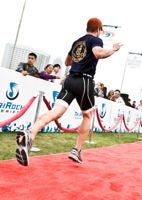 1.    Eat light the night before and the day of so you will feel light.
2.    Don't stop training. People think they need to take these breaks on race week, but you need to keep your system tuned. Do something each day, such as two- or three-mile runs, half-mile swims and 15-mile rides.
3.    Arrive in transition when it opens. So if there are any problems, you'll have time to fix them.
4.    Most importantly, don't forget to enjoy it. People get caught up in the racing, but it should be fun.