Train In Race Conditions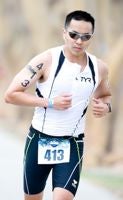 1.    Do several open-water swim practices.
2.    If it is a beach start, practice running into the water. If it's a water start, practice how you'll start in open water.
3.    Practice the swim exit. Get out of the water and run 50 yards or so.
4.    If it's a lake swim, do open-water swimming practices in a lake…or the same if it's an ocean swim.
5.    If you'll be racing in a hot locale, train in heat when you can.
6.    If it's a hilly course, make sure to get in hill training.