Laura Cozik, athletic director of the CNN Fit Nation Triathlon Challenge, worked with a group of six newbie triathletes and CNN correspondent Dr. Sanjay Gupta who are all participating in this month's Nautica New York City Triathlon. She offers up her expertise for those new to the sport.
Calm Your Nerves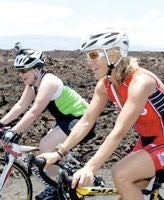 1.    Be as prepared as possible. More prepared = calmer.
2.    Pack your transition bag 48 hours in advance. This way you don't have to run out at the last minute to go buy anything.
3.    Read the athlete's guide 48 hours in advance. Then read it again. Know the details of the race.
4.    Visualize the race. Find some quiet time and lie down and visualize what the race will be like.
5.    Clean your bike. Wipe it down. Take care of it. Bond with it.