Staying Mentally Strong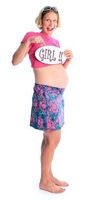 "It's very hard to stay strong. It can break your heart. You have these goals you are used to achieving and now you don't. We're used to this endorphin kick with training, but now that's really gone," said DeBoom.
She advises women to step back and look at the bigger picture—turn your attention to activities that are more appropriate, like preparing for the baby.