Weightlifting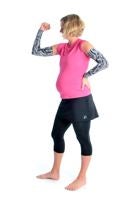 DeBoom recommends the following:
1. Weight loading will stress the body. So you can still do squats, but do them without weights.
2. Stop doing crunches. It will harm your rectus abdominus. You need to allow for major expansion and doing crunches can actually do more damage than good. You don't want to stress your body any more than necessary.
3. Work more on your lower back and hips. You want to allow your hips to open up to allow for the extra weight.