Working Out In The First Two Trimesters

First trimester: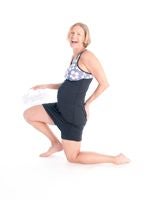 You have to force yourself to slow down, which DeBoom admits is hard, especially if you are a long-course athlete. "But you have no reason now to do six-hour bike rides," she said.
Second trimester:
Your body will naturally slow down, but you can still swim/bike/run.
However, biking during the second trimester puts pressure on your bladder. "I recommend to keep biking throughout your pregnancy, that way you get used to balancing yourself with the extra weight. I now have to sit more upright. But I go slower and just spend less time on the bike," said DeBoom. "You also can still run, but you just can't run as fast."