Ironman Louisville has one of the most unique swim starts of any Ironman. Plus the course passes historic landmarks and offers athletes scenic views of Oldham County. We chatted with race director Beth Atnip, who provides a preview of the course and gives participants a few tips for a successful race.
Swim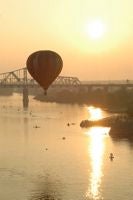 Unlike typical Ironmans, Ironman Louisville has a time-trial start. All athletes will enter the water within 35 minutes. There is no mass swim start so that usually makes this race a little less stressful.
Athletes will start in a smaller channel and then will swim out into a main shipping channel where there will be more room to spread out. They will swim up river and then make a left-hand turn around Toe Head Island and begin heading down river. Each year the current is different, so it's tough to say how well heading down river will help with finish times. There will be stairs at the end to make leaving the water easier.
Tip: Don't stress about getting there early on race morning. Take your time in transition. This year extra pointers will be added to get athletes into the water.