But what if anxiety still happens?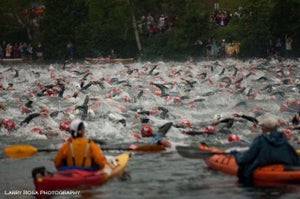 It's not the end of the world if you still feel your heart, breathing and stroke rates getting away from you mid-swim. TI Coach Brian Vande Krol of Denver is coaching a new triathlete who can only swim a few pool lengths but has her first race next weekend. Brian asked what her goal is for the swim leg. She said that her goal is not to panic. Brian replied that it's highly likely she will feel panicky at some point. Rather, her goal should be to recover well from any anxiety attack. He advised her to "go to Sweet Spot [a relaxing position intended to provide 'a pool wall' in open water]. Spend a few breaths contemplating life and how great it is to be living it in such a vibrant manner. Take a few more breaths while visualizing how you want your swim to feel, and then get back to it in a calm, easy manner." Brian adds,  "The ability to hit the reset button is a key for turning a bad experience into a good one."
Brian suggests breathing through anxiety. So does Mike Daley a TI Coach in Chicago. Many of his clients are from Wisconsin where there have been three tri-swim fatalities in the last three years. "I teach all my swimmers to use yoga breathing as their standard vehicle for resting at pool's end while practicing mindful swimming. It's been proven effective for calming nerves, lowering heart rates, and centering before swimming in open water. When they feel their heart rate elevate or need to organize their thinking and find calm during a swim, they roll to Sweet Spot and take a few yoga breaths. When they feel calm and centered, they roll face down again and begin stroking calmly."
Terry Laughlin is head coach of Total Immersion Swimming and the 2011 US Masters 60-64 National Champion in the 5K Open Water Swim. Read his blog at Swimwellblog.com.
RELATED CONTENT:
– Three Essential Open-Water Survival Tips
– Triathlete's Guide: Unexpected Open-Water Swim Scenarios
– A Method To The Madness: Three Swim Workouts For Perfect Race Starts
– The World's Best Open-Water Swim Locations