Here are four tasty options when you need an extra shot of energy to keep you going on a long ride or run.
Honey Stinger Waffles (vanilla) $1.39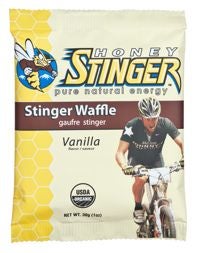 Released earlier this year, the vanilla flavor of Honey Stinger Waffles is a delicious twist on the honey-based waffles, which look and taste almost exactly like stroopwafels sold in the streets of the Netherlands and popular among European cyclists. Originally suggested by Honey Stinger co-owner Lance Armstrong, these waffles are quickly becoming a favorite among triathletes looking for a quick 160 calories of organic energy. Honeystinger.com
Photos by Nils Nilsen.