Rev3 Triathlon, known for its spectator-friendly races in family-friendly locales, recently announced a new race in its roster—in Old Orchard Beach, Maine, to take place on Aug. 26, 2012. We chatted with Rev3 president Charlie Patten about the new course, the new location and what's next for the Rev3 series.
Triathlete.com: Why did Rev3 choose to expand to Old Orchard Beach, Maine?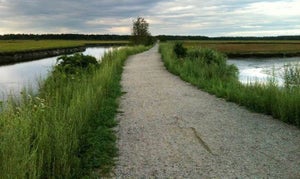 Charlie Patten: We wanted to add another race in New England to add to our successful Rev3 Quassy race in Connecticut. Will Thomas from Tri-Maine approached us with the idea and seemed to fit into our family friendly model very well, so we began the process of bringing it to fruition.
Triathlete.com: What's going to make this course unique?
Patten: Old Orchard Beach has a real family vacation beach vibe to it. To start with, the swim will be in the Atlantic Ocean but it's relatively calm and the water temperature will most likely be in the high 60s. The bike course will be friendly and the run course will include some of the historic Eastern Trail. Of course there will be lobsta and chowdah after the finish line.
Triathlete.com: What type of athlete is this course suited for?
Patten: This course is for everyone from the seasoned veteran to first-timers. There is nothing that is too challenging for anyone. We expect this course could yield some fast times.
Triathlete.com: How has the OOB365, the local merchants' association, helped you to "realize the full potential" of the site?
Patten: OOB365 is committed to finding events that can bring economic stimulus to their community. It was evident after our first meeting with them, sitting around a patio table staring out at the ocean, they were very excited to have an event like this in their community. The mission of Rev3 and OOB are very similar, so it was an easy sell.
Triathlete.com: If an athlete wants to race and then have a vacation there, what would you suggest doing in the area?
Patten: The great thing is Amtrak goes through the center of town and the OOB stop is adjacent to the transition area and walking distance to most of the hotels in the area. It is a two-hour train ride from Boston. OOB is home to one of the best beaches in New England, a seven-mile stretch of sand. There is so much to do for families right in town, and the surrounding areas of Portland, Kennebunkport, Cape Elizabeth and others offer so much.

Triathlete.com: How popular do you think this race will be as compared to other Rev3 races?
Patten: It's hard to say but we always hope that each new race will surpass all of our other races. So far, the response has been great. Its close proximity to our Quassy [race] should help to boost numbers in our first year. Many athletes in New England have already raced with us, so we are hoping to attract those athletes to both races!
Triathlete.com: Can you give any hints on plans for future expansion of the Rev3 series?
Patten: We are in a slow growth mode. We will not compromise our model and what has gotten us to this point so far. We continue to look for venues that meet our company mission and philosophies. I know that's not much of a hint, but you can expect to hear about a new Rev3 race soon. Think warm climates!
Registration will open Sept. 1 at Rev3tri.com.