New Zealand's Terenzo Bozzone has announced he will not make the start at the 2011 Ironman World Championship due to an Achilles injury he has been dealing with throughout 2011.
Bozzone broke the news on his blog: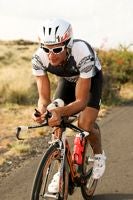 "After long consultations with my  coach and doctors we have decided that the best course of action moving forward is to go back home to New Zealand and look into different treatment options and get my achilles back to 100 percent before any long term damage is caused.
Unfortunately with this injury being around since the beginning of April I have not been able to get the crucial early season training done that is required to build a solid base of fitness. I have taken medical advice and to cram the amount of training now required to be competitive in Kona is taking a significant risk on suffering longer term injury.
This is one of the hardest decisions I have ever had to make but deep down I know it is the right move for my future. I am only 26 years old and if all goes well I still have another 13-15 years of being at the top of my game. I know I will bounce back next year stronger than ever."
Click here to read the rest of the blog entry.
Related Stories:
– Michael Raelert Will Not Race Ironman World Championship
– Terenzo Bozzone: Big Time Or Bust
– Photos: Terenzo Bozzone Outtakes