With temperatures reaching into the 90s, athletes had anything but easy conditions in today's Ironman 70.3 Boulder, where fiery performances in both the men's and women's professional races made for a powerful show.
Written by: Holly Bennett
Defending men's champion Andy Potts (USA) took a predictable early lead on the swim, exiting the water in 22:27, a minute and a half ahead of Fraser Cartmell (GBR) and a fast-following pack including Joe Umphenour (USA), Bryan Rhodes (USA) and Paul Ambrose (AUS). It was Cartmell and Trek/K-Swiss teammate Joe Gambles (AUS) who would fight to the front early in the bike leg, however, reaching T2 with a 2:18 lead on the rest of the men and running stride for stride through the transition area prior to swapping shoes and hitting the run course. Gambles was all business on the run, carving out a quick lead, his perfect running form and pace propelling him to an eventual course record (3:45:35) and more than a six-minute margin of victory over second place Raynard Tissink (RSA). Potts was forced to withdraw early in the run after difficulty on the bike hampered his usual leg speed.
"I felt good going in," said Boulder resident Gambles, "But you never know with a field like that. I just had good running legs today, so I was lucky."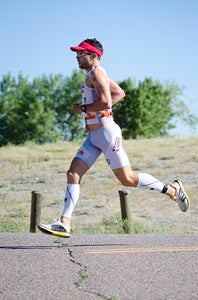 In reaction to breaking Potts' previous course record of 3:46:51, Gambles admitted, "I'm a bit of a stats person, so I know Potts went 3:46 last year. It was in the back of my mind."
Gambles' win today will certainly give him added confidence as he prepares for his Hawaii Ironman race debut in October. But the ever-humble Aussie is taking nothing for granted.
"I'm nervous. Excited. Apprehensive," he said. "You've got to be careful with that one. It will chew you up and spit you out pretty easily, that race. You see some of the best guys go there in the shape of their lives and then walk home. It's my first year, so I'm just going to enjoy the moment."
In the women's race, 2011 Ironman 70.3 Buffalo Springs Lake and 2011 Ironman 70.3 San Juan champion Kelly Williamson (USA) was first out of the water, with a 2:15 lead over California's Caroline Gregory (USA), in town for a taste of high altitude training. Next up was Canadian Angela Naeth (CAN), who quickly moved to the front of the field with her usual cycling dominance. Naeth's lead into T2 was more than six minutes, and despite a hard-charging Williamson who managed to gain back two thirds of that time, Naeth claimed her first Ironman 70.3 victory with a final time of 4:10:31. Williamson earned second place in 4:12:42, and hometown favorite Amanda Lovato (USA) claimed third in 4:23:55.
Overcome by emotion at the finish, Naeth was obviously elated after being a 70.3 bridesmaid more than a dozen times.
"It's my first! I've been trying for over three years to win one of these!" exclaimed the women's champion.
In a nod to the locals lining the racecourse, a beaming third-place finisher Amanda Lovato said, "I love this race. It's awesome having all of my friends out here. I must have heard, 'Go Amanda!' fifty million times. How awesome is that?"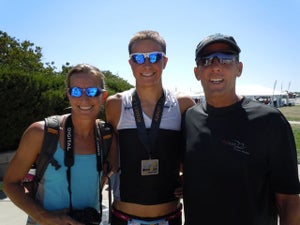 In the amateur ranks, 20-year-old Drew Scott – son of six-time Ironman World Champion Dave Scott – placed second overall in a time of 4:05:53. Scott will also make his Kona racing debut this October, having qualified at the Ironman 70.3 Buffalo Springs Lake. He shared the sentiment of men's pro champion Gambles as he anticipated racing on the Big Island.
"I'm excited," said the junior Scott, "and at the same time a little nervous to step up to the full distance. But I'm really looking forward to it. It's a big race with so much history – I'm excited to give it a shot and see how it goes. Today's race was a big step forward for me, especially on the run. I was able to run much better, so hopefully I'm starting to figure it out. I've definitely gotten some good pointers from my coach!"
Ironman 70.3 Boulder
Boulder, Colo. – Aug. 7, 2011
1.2-mile swim, 56-mile swim, 13.1-mile run
Men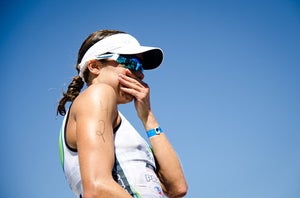 1. Joe Gambles (AUS) 3:45:35
2. Raynard Tissink (RSA) 3:51:41
3. Paul Ambrose (AUS) 3:53:01
4. Joe Umphenour (USA) 3:54:03
5. Matthew Russell (USA) 3:55:44
Women
1. Angela Naeth (CAN) 4:10:31
2. Kelly Williamson (USA) 4:12:42
3. Amanda Lovato (USA) 4:23:55
4. Whitney Garcia (USA) 4:26:10
5. Uli Bromme (GER) 4:27:16