In the same race that Marino Vanhoenacker's 7:45:58 broke Luc Van Lierde's Ironman world record, Austrian pro and super-cyclist Michael "Michi" Weiss broke the eight-hour mark at Ironman Austria, finishing in 7:57:39. The 2010 Ironman St. George champion, who finished 13th at the Ironman World Championship last year, has a busy few months ahead of him. He shared with Triathlete.com about his upcoming wedding as well as racing three world championships back-to-back this year.
Triathlete.com: You were the runner-up after Marino Vanhoenacker at Ironman Austria,
finishing under eight hours as well—what did it feel like to finish under 8:00 in
your home country?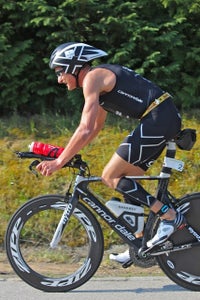 MW: As my home race, Ironman Austria is a very special competition for me. Finishing in 7:57 on a day when the world record was broken after so many years made it even more memorable.
Triathlete.com: Your wedding is this weekend—how are the plans coming along?
MW: Rachel and I have been on the East Coast now for over two weeks. We came over early to support her dad in his first Ironman, Lake Placid. Since then we have just been finalizing the small details, and we're really looking forward to bringing our friends and family together for the Kennebunkport [Maine] wedding.
Triathlete.com: Any plans for a honeymoon before Las Vegas in September?
MW: We will spend much of October in Hawaii for the Ironman World Championships and always enjoy the amazing island, people and energy there. Rachel and I met there in 2009 so Kona holds a very special place in our hearts (we also named our dog Kona).
Triathlete.com: Since you're racing the Ironman World Championship 70.3 in Vegas, the Ironman World Championship in Kona and the Xterra World Championship in Maui, is there one that's a priority for you? Or are they all pretty equal?
MW: Kona is the biggest race of the year for me. My training is built around Kona, but I will give my very best in Las Vegas and Maui as well.
Triathlete.com: How do you plan to train in preparation for those three championships?
MW: I won't taper too long for Las Vegas, and will try to get in another two weeks of solid training in Colorado for Kona. After that it will be all about getting fresh as a Hawaiian pineapple!
Triathlete.com: Do you plan to get in some mountain bike training before Maui?
MW: I love riding my mountain bike in Colorado and am usually on the trails at least once a week. It is a perfect way to break the "routine."
PHOTOS: Xterra World Championship Course
Triathlete.com: With Xterra being the third of the three world championships, how do you plan to recover in time for that after racing in Kona?
MW: Mental recovery is the most important after Kona. Ironman is not only a physical challenge; it takes a lot out of the mind and spirit as well. In the two weeks leading up to Maui I [will] just try to relax and rest. I [will] take advantage of the islands' beauty and nature to help in my recovery.
Triathlete.com: You improved quite a bit in Kona last year—what will it take for you to break into the top 10 this year?
MW: Finishing top 10 in Kona requires an athlete to have a nearly "perfect" day. You have to be rested, healthy and prepared mentally to take on the Kona battle. I have worked very hard to improve my swim and run so combined with a perfect day I could have the key to a top-10 finish.
You can follow Michi on Twitter @michi_weiss or on his website, www.michaelweiss.cc.