Germany's Michael Raelert has announced he will not compete in the 2011 Ironman World Championship race due to an injury. Raelert not only lacks the points necessary to qualify for the race, he also hasn't completed the necessary Ironman. Raelert had planned on racing in the Ironman European Championships back on July 24, but didn't make the start due to a hip injury that has plagued him on and off throughout the season. Raelert says he will still make the start to defend his Ironman World Championship 70.3 title in Las Vegas, Nev.
Raelert posted the following statement on the website he shares with his brother Andreas (translated from German using Google Translate):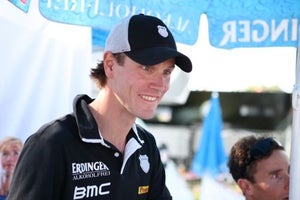 "Even two weeks after the injury-related cancellation of Michael Raelert in his Ironman debut in Frankfurt, his health is still not well enough to make a start at the 70.3 Ironman Championship in Wiesbaden without risk. Based on medical advice, a start at the 2011 Ironman World Championship in Kailua-Kona, Hawaii is not realistic, as the risks of long-term damage in the muscular area are too great for him.
'For these reasons, Andreas and I decided to not go to Hawaii this year to join forces in the startup and to move our dream to 2012. Instead, I will highlight this season at the Ironman 70.3 World Championship on September 11 in Las Vegas and choose to try to defend my title from last year successfully,' said the reigning European champion and double world champion over the Ironman 70.3 distance."
RELATED CONTENT:
– Photo Gallery: Raelerts Aboard BMC In The Canary Islands
– The Raelert Brothers' New Ride?
– Michael Raelert Withdraws From Ironman European Championships
– Exclusive Video: Inside the Raelert Brothers' Spring Training Camp
– Triathlete.com Exclusive: Raelert Brothers Training In Canary Islands
– Video: Andreas Raelert Receives Support From Brother Michael
– Video: Michael Raelert To Race Ironman European Championships