The ITU's Elite Sprint Triathlon World Championships is set to take place this weekend in Lausanne, Switzerland, with a strong contingent of athletes looking to add a world championship to their names.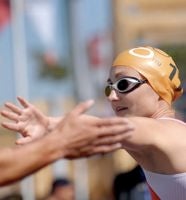 This year's sprint world championship will be slightly different than last year's, as athletes will earn points that will go towards their overall place in the Dextro Energy World Championship Series, whereas last year the race was a standalone event.
The event this weekend will also feature a Team Triathlon World Championships, a relay event that consists of two men and two women from the same country competing against other teams. Currently, the ITU is attempting to get this format of racing into the 2016 Olympics in Rio De Janeiro.
To watch the events live or to watch replays, go to Triathlonlive.tv.