Intermittent rain showers and 90 percent humidity did little to slow down the professional field in today's Nautica New York City Triathlon, with Rebeccah Wassner three-peating in her home town and Seattle resident Ben Collins winning here for the first time.
Written by: Sarah Wassner Flynn
After the always-swift swim in the Hudson River, the top men left T1 in a quick succession. But Collins hammered his way along the rain-slick bike course putting a significant gap between him and four-time NYC champ Greg Bennett. Maintaining his lead throughout the undulating hills of Central Park, Collins walked across the finish line in 1:48:11 before falling on his knees to the ground in exhaustion, yelling, "Go Lions!"—a shout out to his local alma matter, Columbia University.
"That was really, really hard, especially with those massive hills at the north end of the park," said Collins, who earlier this season won New Orleans 5150. "I was dreading them, and kept looking back to see if [Greg] Bennett was catching me. Any day you can stay ahead of [Greg Bennett] is a good day."
Bennett—admittedly a bit worse for wear after a Saturday-evening flight from London, where he was supporting his wife Laura's Olympic bid at the World Championship Series race (she finished out of contention)—was gracious in accepting his runner-up spot.
"Ben had a great day. He rode very well," said Bennett, adding that he was still setting up his bike at 3 a.m. on Sunday morning—mere hours before the race's pre-dawn start. "I thought I could catch him on the run, but I felt flat today, like I was stuck in third gear."
Aussie Tim Reed rounded out the men's podium, crossing the line nearly two minutes behind Bennett in 1:50:50.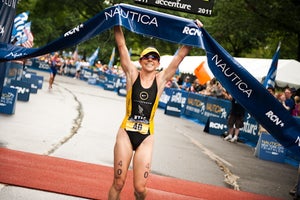 In the women's race, the swim did nothing to string out the front pack, and the wet, ruddy pavement on the Henry Hudson Parkway proved problematic for early leader Jasmine Oenick, who went down hard in a crash. Jenna Parker, Wassner, Amy Bevilacqua, Margie Shapiro, and Evelyne Blouin all managed to stay upright and in contention before Parker powered ahead, exiting T2 nearly two minutes up on Wassner. But Wassner, who lives a cab ride away from Central Park in downtown Manhattan, took advantage of her home turf and charged through the run, passing Parker at the 4.5-mile mark for the fastest 10K of the day (36:28).
"No one made it easy out there today," said Wassner, who becomes the first-ever woman to win NYC three years in a row. "There were some tough women in the group and a lot of challenges along the way. I just focused on staying up on the bike, and taking it all out on the run. I train here all the time, so it's almost second nature to run those hills."
In what was easily the finest finish of her professional career, Amy Bevilacqua, a 38-year-old mother of four, turned in the day's fastest bike split for the women (1:04:59) to propel her into third place. Meanwhile, Wassner's twin sister, Laurel, who finished second to Rebeccah here in 2010, suffered a one-minute stand down penalty on the bike and finished eighth.

Nautica New York City Triathlon
New York City, NY – Aug. 7, 2011
1.5km swim, 40km bike, 10km run
Women
1. Rebeccah Wassner (USA) 2:03:19
2. Jenna Parker (USA) 2:04:01
3. Amy Bevilacqua (USA) 2:05:05
4. Margie Sharpio (USA) 2:05:53
5. Evelyne Blouin (USA) 2:06:52
Men
1. Ben Collins (USA) 1:48:11
2. Greg Bennett (USA) 1:49:05
3. Tim Reed (AUS) 1:50:50
4. David Thompson (USA) 1:51:11
5. Kevin Collington (USA) 1:51:58