Great Britain's Alistair Brownlee won the London edition of the ITU's Dextro Energy World Championship Series today with his brother Jonathan coming in third to thrill their home crowd. Both received qualifying spots for the Olympics. No American placed in the top nine and and thus, did not receive any automatic Olympic spots. Alexander Bryukhankov of Russia also had an impressive showing with a second-place finish.
The day started with Jan Frodeno of Germany having a strong performance with his best swim of the season. There was no breakaway on the swim, but all top names, Javier Gomez, Alistar and Jonathan Brownlee, and Frodeno managed to stay out in the front pack.
The bike course headed past some of the famous landmarks, but just as the athletes finished the swim, it started to rain. This added an extra slick to the surface and athletes had to ride more cautiously. Through the first lap, Frodeno was able to maintain his lead with teammate Maik Petzold right behind. The chase pack was about 18 seconds back, with four to five groups developing early on during the ride. Chris McCormack was riding solo in the second lap, away from any group. He opted to drop out before the third lap, and he later tweeted that he had torn his hamstring. Another man who was forced to drop out on the bike was American Jarrod Shoemaker. Shoemaker slid off his bike in the tough conditions. Eventually three men were able to break away: Bryukhankov, Alistair Brownlee and James Elvery. The were eventually joined by Ivan Rana, who managed to break away from the main group on his own. The chase pack included 56 men who would start the run over a minute back of the lead group.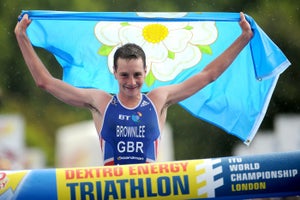 Into T2, Alistair Brownlee led the run efforts. Bryukhankov managed to hold onto his second position, with Jonathan Brownlee and Javier Gomez battling for third. Jonathan Brownlee was the more determined athlete, and went on to post the fastest run split of the day. He clearly was putting up a fight to reach the podium and guarantee himself an Olympic spot.
Into the finish chute was Alistair Brownlee in first, followed by Bryukhankov and Jonathan Brownlee. Manuel Huerta was the top-finishing American, coming in 25th position.
ITU's Dextro Energy World Championship Series-London
August 7, 2011
Men:
1. Alistair Brownlee, GBR, 1:50:09
2. Alexander Bryukhankov, RUS, +00:25
3. Jonathan Brownlee, GBR, +00:55
4. Javier Gomez, ESP, +01:07
5. Steffen Justus, GER, +01.16
6. Laurent Vidal FRA +01:18
7. David Hauss FRA +01:23
8. Brad Kahlefeldt AUS +01:31
9. Sven Riederer SUI +01:32
10. Vincent Luis FRA +01:32
25. Manuel Huerta USA +02:21
42. Matt Chrabot USA +03:11