This is the race that all ITU athletes and fans have been waiting for all year—the best triathletes in the world will be peaked and ready to race their best at the ITU's Dextro Energy World Championship Series race in London this weekend as they chase Olympic spots and points for the overall world championship title.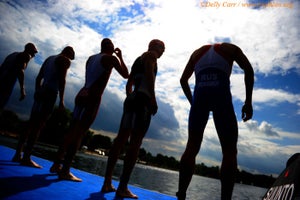 The men's and women's fields look to be two of the best ever assembled in the sport's history, and there will be many storylines at work this Saturday and Sunday.
For one, most countries are using the race as an Olympic Trials to begin qualifying athletes for the 2012 London Olympics. That is, for many athletes, all the work they have put in over the last three years or longer will boil down to about 2 hours of racing—a time period that could mean the difference between qualifying and not qualifying for the Olympics.
The race will also be crucial in determining who will be the overall male and female world champion this year, as London—which will be contested on the same course that will be used in the Olympics—will serve as the first of the final three races of the ITU's World Championship Series.