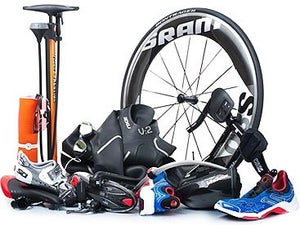 In today's "Ask Aaron", Aaron explains why GPS devices cannot be used in the pool, explores the reasoning for the Clydesdale or Athena category and provides an apparel option for triathlons where the swim takes place in a pool. Click here to see past editions of "Ask Aaron". To submit a question to Aaron, email Askaaron@competitorgroup.com.
Q. Hi Aaron:
I would like to find a GPS watch that will track distances while swimming either indoors or outdoors. Is there such a thing?
Thanks,
Ellen
A. Although many early-generation GPS devices could not withstand a swim, many of the current units are substantially water resistant. The Garmin 310XT, Timex Global Trainer and Polar RCX5 are three examples with water-proofing rated to 50m. The RCX5 uses a GPS pod and the other two have their GPS units integrated into the watch. These solutions only work outside in open water, however. The roof over an indoor pool disrupts the GPS signal, and abrupt pool turns make GPS tracking unreliable in an outdoor pool as well.
– Aaron