A prolific racer who competes in everything from the Olympic distance to Ironman, pro Sam McGlone, 32, has been a popular fixture on the triathlon scene since turning pro ten years ago. So when it seemed she just disappeared from racing this season, we went looking for answers.
Since her disappointing finish in Kona (16th), McGlone has assumed a low profile in Boise, Idaho, focusing on recovery from a number of health setbacks, working with a new coach (Matt Dixon of Purplepatch Fitness) and cramming for her next career move.
Excerpts from our catch-up with Sam McGlone:
Triathlete.com: So, where have you been and why haven't we seen you racing this season?
SM: I used to be really consistent, and I've had more ups and downs recently. I was dealing with a bunch of issues—residual overtraining syndrome, anemia, chicken pox and hypothyroidism. I've been working with Dr. Jeff Schilt here in Boise, and he's done some interesting new testing for overtraining syndrome. He's an orthopedic surgeon who has been involved in triathlon for many years and he's been the doctor for the U.S. Triathlon team and worked with a lot of athletes. He has a really good knowledge of the sport.
I'm focusing on getting to a place of health, energy and vibrancy—not just as an athlete, but as a person. Pushing through another season wouldn't have been the right thing to do. It would have been an early end to a career.
Triathlete.com: What happened at Kona? Was it a turning point of sorts for you?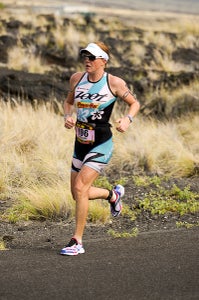 SM: It was the first time I had a bad run in Hawaii, and everything that went wrong did. It was very disappointing but at the same time it was bound to happen. My preparation had not been optimal. The bigger picture was overtraining from years and years of going full-gas all the time.
I started talking to coach Matt Dixon after Kona and I felt like it was time for a change. I had a lot of success with [former coach] Cliff [English], but I was encountering new challenges. Sometimes it's good to get a new outlook and perspective, and Matt is really good about adapting his approach to the individual athlete. Here I am starting with a new coach and the first thing I've done is take the season off, but Matt has been super supportive.
Triathlete.com: Was it initially difficult at completely stop training and racing?
SM: At that point I was struggling to just get through the day, let alone make it through a training session. I knew I had no option; it was straightforward what I had to do—not train, just to focus on recovery. I've been doing triathlon full-time for ten years, so it wasn't easy to do.