America's next great Hawaii Ironman hopeful – in his rookie Kona season – gets advice from the last American to win (2001 & 2002).
Click here to read other Kona Confidential transcripts.
TD: So, you've done your first ironman.
TO: Yeah, I did my very first one.
TD: How'd it go?
TO: I was pretty happy with it.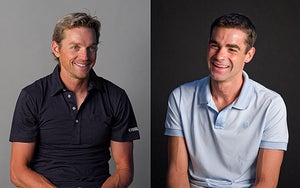 TD: I rode with you once this winter. You were still trying to figure out your schedule at that point.
TO: Yeah, we rode and I was getting some feedback from you about your long rides and how many you would do, and I started bumping up my bike volume. I was a little nervous. I didn't know if I'd blow up on the bike. That was probably my number one concern.
TD: Yeah, I was interested to see how you'd do so I watched, and it seemed like you kind of keyed off Eneko [Llanos].
TO: That was my game plan. I knew he was the guy to beat.
TD: That definitely looked like a good game plan for the first time. On your bike, did you feel – I mean for me, looking at you going into Kona, that's going to be your make or break point. You've got to be strong on the bike. Because your run is solid enough, but that's kind of that testing ground on the bike, how strong you can be.
TD: I was surprised. I didn't think I'd ride under 4:30. But it was fast – I mean it was a fast bike course. [Chris] Lieto rode a 4:15. I felt pretty good, and then the last 10 miles Luke Bell went, and that's when I felt like it was a decision point. Unfortunately, Eneko went away with him. But I think overall it was a good decision, to focus on my nutrition.
TD: Did you get your nutrition?
TO: I didn't get my special needs bag, so I kind of recalculated everything and just played it by ear.
TD: You have to go into it with about 50 plans, then see which one hits.
TO: I know there's a lot of pressure with people going into Kona, but for me I felt almost like the first one was even maybe a little bit more, just because it was a complete unknown and it could have gone totally south.
TD: Yeah, and it's so different from when I first started. I mean I did my first ironman as an age-grouper – my first three ironman's as an age-grouper – and they were all in Kona, so I just kind of moved my way up through the ranks. Now it seems like it's changed to the point where you've got these short course guys who move up to the half and then the full, more like running has become. There are a lot of different pressures I think on you guys, when you're stepping up to that distance. So now you've had a good successful first race, let's back it up. And again, going to Kona for you is different because you've been over there to watch it a couple times.