The lessons that Lindley learned the hard way after failing to make the 2000 Olympic team are now the mantras she repeats to her athletes: Believe in yourself. Leave no stone unturned. Experience everything in training you expect to experience in a race. And they are the principles with which both athlete and coach used to design The Plan that guided Carfrae through her first Ironman and then her first Ironman World Championship win.
Many coaches might have tried to prepare Carfrae for Kona with one Ironman after another. But Lindley wanted her to retain her short-course speed and build her strength by training her to race faster 70.3s. With no background in 70.3 racing, much less in Ironman, Lindley didn't know if that approach would work. But her instincts told her it was the way to go.
"I told Rinny, 'I don't know much about this, but this sport is going to transform just like every other distance has in triathlon, and I'm going to train you to race it just like an Olympic-distance race back-to-back,'" Lindley said. "And that's how we approached it: trial and error. I adjusted her training to what we needed to do to hold that same Olympic distance effort for a half-Ironman."
In October 2007, the two brought the rest of Lindley's athletes to the Big Island for a training camp geared toward preparing for the Ironman World Championship 70.3. But the more important subtext was learning about Kona. They watched the Ironman. They spoke to Mark Allen, Karen Smyers, Paula Newby-Fraser, Greg Welch, Wendy Ingraham and Scott Tinley.
"I asked millions of questions. I was very annoying," Lindley recalled. "It was amazing how different everyone's ideas were. I read old books on the Ironman. Rinny communicated her ideas and we communicated a lot about what our game plan was going to be."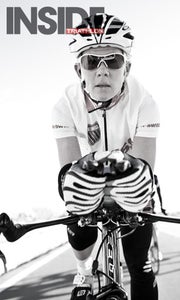 In the first few years of training together, Lindley took the driver's seat, but she would always take into consideration what Carfrae thought about the program and make adjustments accordingly.
"Once I stepped up to Ironman, which was uncharted territory for the both of us, I think we evolved into a great team with a huge amount of mutual respect," Carfrae said. "We were both 100 percent committed to racing Ironman at the highest level possible, and we both had our own ideas to bring to the table. We didn't always agree, but we were able to put the puzzle together and work out what the absolute best plan would be."
Carfrae won the Ironman World Championship 70.3 in Clearwater, Fla., the following month, which provided her with an entry into Kona for 2008, but the two decided to defer it until 2009, when Carfrae would be fully ready. At the start of 2009, Lindley says, "The game plan was geared toward having a totally awesome 70.3 season. Our long rides were getting longer, and our long runs were getting a little bit longer. We were doing more second runs. Things were changing, but not in any massive way. Then when we got to a certain point in our season, July 1, Ironman training started."
While Carfrae was running faster off the bike, Lindley felt she needed to increase her efficiency and strength on the bike.