When Lindley won the ITU World Championships in 2001, she considered retiring but decided to give it another year to prove her No. 1 ranking wasn't a one-time fluke. It wasn't. She won four World Cups in 2002 and the overall ITU World Cup title.
Nevertheless, she felt there was something bigger out there for her, something that would combine what she learned as a psychology major at Brown with her experiences as an athlete—something that would allow her to guide others through a journey similar to the one that had transformed her life.
"Literally the day after I retired I knew what I wanted to do," Lindley said. "I'd always watched my training partners and loved the differences in personalities, looking at what worked for someone and not someone else. That really intrigued me. We were always training in these out-in-the-middle-of-nowhere places and that was my entertainment, figuring it all out."
It's a Thursday morning in Santa Monica, Calif., and Lindley pulls up to the beachfront park in her white VW station wagon stocked with water, gels and extra tubes. Her upbeat comments and lighthearted jabs spark laughter among her athletes joining in for the day. There's Peirsol, whom Lindley affectionately refers to as "Hay-hay"; former fashion model turned pro triathlete Jenny Fletcher, whom Siri calls "Fletchy"; Major, whom Lindley often greets by shouting "May-jor!" in Spanish; Japanese ITU athlete Misato "Taka" Takagi; and Foster. Lindley's tone grows more serious when she tells her athletes what she expects from them on today's ride up Topanga Canyon Road. As we begin the ride north through the morning traffic, she drives close behind, monitoring everyone's cadence and form.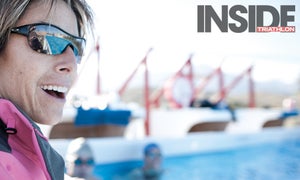 Like Sutton, Lindley is convinced her athletes can make the greatest gains while training as a group and insists on being with them at the pool, the track and on many of their group rides to correct mistakes.
"It's unbelievable how much more you can get out of an athlete by having them there in person," Lindley said. "If something's not working, I'll be able to see right away because I'm right here. What's happening when they're falling apart? Is their cadence falling off? Are their shoulders getting too tight? My being there to observe and react and make a change immediately is something I rely on to make those major gains."
Like Sutton, who applied his experience as a thoroughbred horse trainer to read the body language of his athletes, Lindley also has an uncanny ability to read people: their moods, their fears, the things they unconsciously do when they reach their physical limits.
"She's very good at reading athletes," said Cave. "She caught on to what I need, which is to wind down and relax. I don't like talking too much before races, so she always sends me these awesome e-mails with big bold letters and exclamation marks. It's almost like I can hear her when I'm reading the e-mail."
Lindley acknowledges she's not a numbers person, but there's a reason: "There's a time and a place for heart-rate monitors and power meters, but if you're depending on them every single day, they put a ceiling on you," she said. "Because if you hit these numbers, then you think, 'Oh great, I'm where I need to be.' But what if you could be this much higher? What if you could go by perceived effort and get 15 percent more out of yourself?"