Lindley was hardly a natural when it came to triathlon. She was a college athlete who played field hockey, ice hockey and lacrosse at Brown University. She even competed for a spot on the U.S. national lacrosse team. But she didn't bike and could barely swim. Her first triathlon, a local sprint race in Colorado she entered at age 23, was in her words "a complete disaster." But she was hooked. And by sheer will and determination she clawed her way to the top, first as an amateur and then as a professional.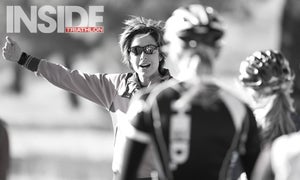 "For me, triathlon was the vehicle through which I found myself," Lindley said. "I went from being a very insecure, scared kid to coming to where I am as a human being. The journey for me was much more powerful than the results I got or the sponsors I had or any money that I made."
It also convinced her that anything is possible if you have enough motivation to pursue your dream, a lesson she is fond of reminding her athletes.
"I'm living proof, because I'm someone who people would never have guessed would eventually become a world champion," she said. "So I'm a believer that anything is possible. You just have to figure out the right recipe."
If bouncing back after failures and overcoming shortcomings as an athlete is the path to success for a future coach, Lindley has had more than her fair share. In 1999, she completed the ITU World Cup season ranked fourth in the world, the second American behind Barb Lindquist. Setting her sights on qualifying for the 2000 Olympics in Sydney, she moved to Cronulla, Australia, near Sydney and spent six months training under New Zealand coach Jack Ralston. But in her first Olympic trials qualifier, the lead pack swam away from her, a mistake that contributed to her not being selected for the U.S. team. Devastated after what she called the biggest failure of her life, she went to Sutton, who was coaching Harrop, and absorbed the lessons that soon transformed her from a perennial fourth-place finisher into a world champion.
"I learned so much from Brett," Lindley said. "He is a really brilliant master of minds. He has a great way of knowing how to get into an athlete's head, sweep out the stuff that's getting in the way and shed light on the things you need to be working with as aspects of your personality that are going to allow you to be the best that you can be."
Sutton figured out what was missing, Lindley says, and in the process provided some of the most important lessons she's learned in life.
"I was one of those athletes who would say I'm going as hard as I can; there's no way I could possibly go harder," Lindley said. "But because I had never gone any harder, I thought that was my limit. I set limits for myself when I said this is as hard as I can go. His hammering me so hard that first month was brilliant because if I could make it through that, it would give me this newfound belief in myself. By torturing me he was giving me this incredible gift. Not only did I survive, but I had my first podium in a World Cup three months later."
Beyond Lindley's high tolerance for pain and her determination to win, Sutton observed something else about the American: "She was always very good at summing up other people's problems on the squad," Sutton said. "Without her knowing it, I could ask a question of one of her training partners and she would give an insightful answer. She had an inquiring mind. She was always pimping me for answers."