"Hearing that stuff used to just destroy me," said Lindley of the negative rumors, "because I care so much about what we do, about taking care of my athletes, making sure that we're happy and that they understand we're on the same page. I want them to feel that we are in this together."
Known as a protégé of Sutton, who is most famous for molding Wellington into a champion while she trained with him in the Philippines and whose sometimes brutal workouts are legendary within the triathlon community, Lindley understands why people are misinformed. But Lindley makes no attempt to distance herself from her former coach, saying she has nothing but the highest regard for him.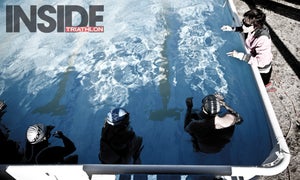 "Brett was the greatest coach," Lindley said. "He was my mentor. He believed in me when I didn't believe in myself. He's just an incredibly smart, intuitive man. You look and see what he's done with these athletes and it's incredible. So a lot of his principles I, of course, have followed."
Spend time with Lindley, however, and you'll immediately discover that she is very different from Sutton. Lean, tanned and fit despite the nine years that have passed since her last professional race, she has an infectious smile, upbeat personality and irrepressible energy. While some of Sutton's former athletes describe their old coach as blunt, unapproachable and often critical, Lindley is the type of person who goes out of her way to make people feel at ease. She forms close bonds with her athletes, feels empathy for them through their ups and downs, and constantly reminds them that "we're in this together."
"Brett could be a real hard-ass and he used different psychology—not the positive reinforcement, but the negative reinforcement," said Cave, who was once coached by Sutton. "I was always under the belief that I was not good enough under Brett. Siri's always positive. She's never said a bad word to me or anybody I know. She's someone I consider a friend."
Major, an Ironman champion who joined Lindley's group last year, agrees: "Siri always encourages people to just have fun. You are working, but to go fast you have to enjoy it."
But beneath Lindley's easygoing exterior is another, very different side to her personality—an inner core of mental toughness and cunning that Sutton came to respect. Those who know her well point to this toughness as the reason she became the world's No. 1-ranked triathlete.
"'Fierce' is the best word to use when describing Siri," said Loretta Harrop, Lindley's former training partner and longtime friend who won silver for Australia in the 2004 Athens Olympics. "She is fiercely competitive, fiercely passionate, fiercely determined and fiercely protective of anything that means a lot in her life. We were the biggest rivals, yet the best of friends. Both of us had a huge respect for each other's unwavering desire to win."
Sutton echoes Harrop's sentiment: "People underestimate her natural intelligence. The bubbly personality she exudes sometimes hides the very shrewd thinker that she is. When you have to cope with certain problems in one's own career to become successful, it makes for a better coach."