Despite her success, Lindley remains off the radar as a coach. When most people think of Siri Lindley, they think of Siri the athlete, not Siri the coach.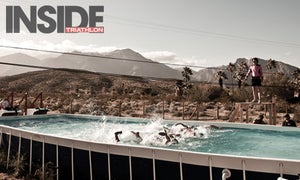 This is not surprising. Unlike most high-end coaches who pay their bills and gain exposure through webinars, DVDs, online training programs and mass-marketed coaching clinics, Lindley keeps a low profile, focusing time and energy on her 15 elite pros and 10 age-groupers, many of whom train together under her watchful eye in Los Angeles and at her desert training camp east of San Diego in Borrego Springs. One of the main reasons she moved from Boulder, Colo., three years ago, in fact, was her concern that the area had become overrun with triathletes.
"There was too much going on there, too many distractions," she said. "I wanted to focus on what we need to get done."
Her move to Los Angeles in 2008, though, came at a price.
"I had 10 athletes and I lost nine out of the 10," she said. "Rinny stayed and I built the current team around Rinny. It gave me a blank slate to create an environment for Rinny to succeed."
While Los Angeles and Borrego Springs now provide Lindley with what she calls a "more powerful environment" as a coach, one that allows her to better control and monitor her athletes' training, her propensity to stay out of the limelight and train her athletes away from the masses (much like her former coach Brett Sutton did) have fomented rumors about her training methods.
Foster heard the warnings before he joined Lindley's group last September: Siri will overtrain you. She's a control freak. You'll have no voice. If you have any ideas, forget it—you won't be able to express them. She doesn't work on technique. She gives everyone the same workouts. You'll be injured or retired in a year.
"They had this perception that because her old coach was Brett Sutton, she just hammers and hammers you, without rhyme or reason," said Foster. "They said she has this formula, and she sticks to it, and good luck. But that was nowhere near the case. I realized these people were ill-informed."
When super swimmer Peirsol, the younger sibling of backstroker and five-time Olympic gold medalist Aaron Peirsol, decided two years ago to embark on a career as a pro triathlete, several coaches courting her warned her parents that if she went with Lindley she'd end up injured and overtrained. But their efforts backfired when Peirsol's parents, skeptical about the coaches' motives and curious as to why Lindley had never contacted them about coaching their daughter, asked Lindley if they could meet with her and observe her training sessions in Borrego Springs. They ultimately chose Lindley.