Mirinda Carfrae's 2010 win in Kona was no fluke. It was a result that was carefully and methodically crafted by her fierce yet under-the-radar coach.

Written by: Kim McDonald
Photographs by: John Segesta
This article originally appeared in the May/June issue of Inside Triathlon.
As news about Chrissie Wellington's last-minute withdrawal from the 2010 Ironman World Championship rippled through the nearly 1,800 athletes preparing to slip into the still waters of Kailua Bay in Kailua-Kona, Hawaii, most assumed that Mirinda "Rinny" Carfrae was elated, breathing in a sigh of relief. The 2009 runner-up, Carfrae wouldn't have to compete against the pre-race favorite and three-time Ironman world champion.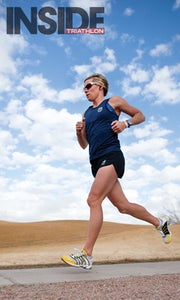 But Carfrae wasn't relieved. Outside the King Kamehameha Hotel, where Carfrae was resting, she was in a state of panic.
"When Chrissie pulled out," said Siri Lindley, Carfrae's long-time coach and confidante, "My phone started ringing and Shannon, Rinny's manager, was on the line saying, 'Get your ass out here. Rinny needs you right now.' So I'm sprinting through the hotel and when I get there, Rinny is saying, 'What in the world do we do now?' I said, 'Nothing changes, absolutely nothing changes. Race your race.' And she said, 'Who am I going to swim with?' And I said, 'Nothing changes. We stick to The Plan.'"
The Plan for last year's Ironman World Championship, a race that Carfrae had dreamed of winning for most of her life, was a carefully scripted guide that Lindley had put together. It spelled out who Carfrae was expected to swim behind, the way she expected her to ride and how much faster she expected Carfrae to run along the Queen K Highway than she did in 2009 when she broke Wellington's 2008 Kona marathon record of 2:57:44, setting her first marathon record for the race of 2:56:51, in what was her first-ever marathon.
But The Plan in a larger sense was also the map to success that Carfrae, who was a 70.3 superstar and had never done an Ironman prior to Kona in 2009, and Lindley, a 2001 ITU short-course world champion who had never put together an Ironman training plan before Carfrae's 2009 debut, developed collaboratively. They perfected it through trial and error and had closely followed it over the previous five years. It was a plan that culminated in Carfrae winning the 2010 Ironman World Championship with a world record-breaking run split of 2:53:32.
How did two athletes with so little Ironman experience create a recipe for such success in Kona in such a short amount of time? Many of the clues can be found in Lindley's evolution from a struggling age-group triathlete to a world champion, the instincts she's honed as an athlete and coach, and the way she's learned to cajole top-level performances from her athletes.
Since 2003 Lindley, who dominated the ITU World Cup rankings in 2001 and 2002, has developed into one of the world's premier triathlon coaches. She coached Susan Williams to a bronze medal in the 2004 Athens Olympics, Carfrae to her 2007 Ironman World Championship 70.3 title and Samantha Warriner to an ITU World Cup series overall championship (before the ITU's World Championship Series existed). Besides Carfrae, Lindley's current athletes include long-course champions Leanda Cave and Kate Major (Cave is also a former ITU short-course world champion), and up-and-coming ITU short-course pros Chris Foster and Hayley Peirsol.