While Bozzone's talent is undeniable, one can't entirely neglect his rakish good looks, especially given the hordes of women who swoon over him. It would be an easy assumption to classify him a Kiwi Casanova, yet he's the furthest from a player. In fact, he and girlfriend Kelly Lawrence have been going strong for more than six years. The pair share an obvious mutual adoration, and their relationship is a model example of separate but complementary interests. Lawrence is a high-end handbag and jewelry designer whose brand, Zabbana, has a growing following in the fashion industry. Her business allows her to travel to races with Bozzone where she supports him with the enthusiasm of a high-school cheerleader. Bozzone, in turn, helps promote Lawrence's brand through social media as well as wearing jewelry from her men's line.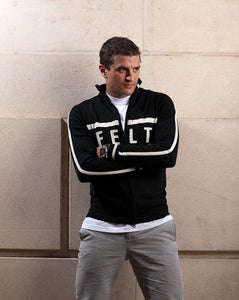 "When we first met, Kelly had no clue what triathlon was. She felt a little embarrassed for me having to run around in Lycra," says Bozzone, laughing. "I guess I had a basic sense of fashion—otherwise she never would have gone out with me. Though she did throw away a few items of my clothing. I had these favorite jeans—they were not sparkly exactly but they had a shiny tinge. I thought they were the bee's knees. She obviously didn't agree."
A short-lived reality television career is another part of Bozzone's past that went the way of his disco pants. In 2004 he starred as a contestant on a "Survivor"-esque show, "Celebrity Treasure Island." "I actually lost halfway through to one of the girls," he says. "It was a best-of-three challenge. First we were handcuffed and had to stick our heads into offal pie to find the key to unlock the cuffs. I won. Then we went through the alphabet, alternately naming countries that started with each letter. I started with Algeria, she says Botswana, and so on. I know plenty of countries, and being into running, who would have thought I would get stuck on the letter K? I had a complete brain freeze. I mean, what about Kenya? I lost that one. The third challenge was throwing knives to pop balloons. I swear the knife they gave me was blunt. She won and booted me."
With his fashion "don'ts" ironed out and his 15 minutes of reality TV fame a fading memory, Bozzone now moves in one crystal-clear direction: full force straight ahead. The rising star makes no bones about wanting to not only match but also surpass the accomplishments of the mentors he admires.
"I want to be the Lance Armstrong or Michael Jordan of our sport. I want to take triathlon to the level of awareness it deserves. That's where I see myself. That's my ultimate goal."