Bozzone was involved in martial arts from an even younger age, traveling to Japan for the Junior Karate World Championships. "In karate you learn the principles of honor, self-control, discipline. Even at 5 years old, you say those words daily and eventually you learn what they mean. That definitely helps me in triathlon. You have to be self-motivated to train 40 hours a week. You don't have a coach holding your hand, your parents pushing you—that has to come from within."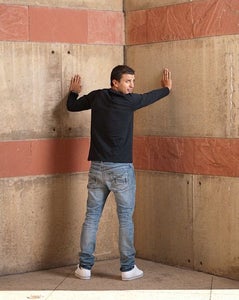 Bozzone's discipline paid off. He became a nationally ranked breaststroke swimmer until, at age 13, a perforated eardrum kept him on dry land. The injury would be a blessing in disguise.
"I remember quite clearly, before I popped my eardrum, sitting up one night on the foot of my bed thinking, 'I just don't know if I can do this swimming thing anymore,'" says Bozzone. "Even though I thought I could go to the Olympics, I was over it. I had no life. I take my hat off to swimmers—they're in the water 30 hours each week, fighting for one-tenth of a second. The break was a great opportunity to try something different. I saw a local duathlon and thought I would give it a go. I finished eighth, but I really enjoyed it, except for falling over my bike. You know when you dismount and you have jelly legs? No one told me about that! But it was fun. The people, the attitude—everyone's a lot more laidback than in swimming."
A slew of Junior world titles quickly followed. Bozzone won the Junior Duathlon World Championship in 2001, and in 2002 he doubled his take, with wins at both triathlon and duathlon Junior Worlds. In 2003 he again proved victorious at the Junior Triathlon World Championship. Transitioning to predominantly overseas racing, Bozzone followed the ITU circuit and in 2005 attempted his first international half-iron-distance race at Wildflower, finishing third. The following year he shattered the course record.
Bozzone's focus remained on shorter distances, though, with his heart set on representing New Zealand in the 2008 Beijing Olympics. On the heels of an injury, Bozzone lacked enough ITU points for automatic qualification, and controversial politics seem to have prevented his wild-card appointment to the team. "It was a massive blow," says Bozzone. "But then I thought, 'I want to go somewhere and truly make my mark.' That's when I decided to take the half-Ironman stuff more seriously, with my eye ultimately on Kona. That's where the legends of the sport are made—in the lava fields." He stamped his commitment to long-course racing with a record-breaking win at the 2008 Ironman World Championship 70.3, and suddenly the 70.3 scene buzzed with talk of "newcomer Bozzone." Since then he's racked up multiple half-Ironman victories, thrice been runner-up at Ironman New Zealand and finished just outside of the top 10 in Kona. And he's only 26.