While Bozzone clearly grasps the give-and-take importance of growing relationships and is staunchly committed to giving his all both on and off the course, the full Ironman victory he longs for eludes him still. But he has no intention of giving up his quest for Kona's crown or his aspirations to transcend the sport.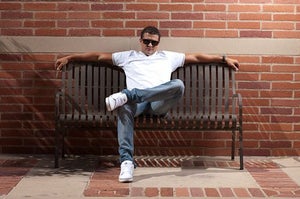 "I can't work it out yet. I can race four 70.3s week after week and recover fine, but as soon as I double the distance I struggle a bit more," he says. "My coach and I are working closely to figure out what's holding me back—is it a mental component, is it physical, is it nutrition? But it's like that with Ironman. Look at how many times Macca tried in Kona before he got it right. Mark Allen was in the same boat—he tried for years before he took the title. Hopefully it's not going to take me that long!"
A rock-solid family life laid a firm foundation from which the young Bozzone would launch his crusade for greatness. Born in South Africa, Bozzone moved to New Zealand at age 10, his parents hoping to provide better opportunities for Terenzo and younger brother Dino. "They wanted to create the best possible life for us," says Bozzone. "In New Zealand you leave your door unlocked. Kids leave their bikes in the middle of the yard with no fence. In Jo-burg [Johannesburg] that would never happen."
Asked about the worst trouble he caused as a kid, Bozzone admits to a few schoolyard fights. "I'm not proud of that," he says, with a shamed tone. He describes "Tok Tokkie"—the South African version of Ding Dong Ditch—as his most devious childhood prank. "I swam competitively from the age of 7, in the pool 10 times a week. I didn't have time to behave badly!" he says.