Terenzo Bozzone is hardly just another pretty face. He's a fast-tracking triathlon superstar with ambitions of elevating the sport to a whole new level. Given his innate talent, early success, marketing savvy and all-out drive to be the best, he just might be the guy to take us there.
Written by: Holly Bennett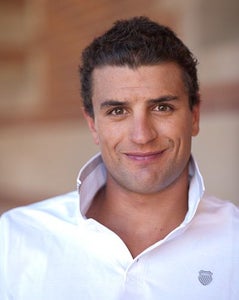 Twenty-six-year-old professional triathlete Terenzo Bozzone pushes his shopping cart down the aisle at a supermarket in his native New Zealand. He's here stocking up for an upcoming training camp. Reaching the cereal aisle, he loads his cart with boxes and boxes of Kellogg's Nutri-Grain cereal. If he's feeling a bit self-conscious, it's not for all the calories—it's because his face is on the front of every box.
As the cover guy for Nutri-Grain throughout New Zealand, Bozzone's recent cereal-box celebrity is a significant step toward realizing his broader vision. "The campaign has been incredible for me and hopefully it will do great things for their brand as well. It's important to move triathlon into new markets," he says, with obvious appreciation. "Though it can be a bit embarrassing to see my ugly mug staring back at me in the grocery aisle. I usually wear a hat and glasses into the store now."
As one of the youngest members on triathlon's A-list, marketing strategies and social media sit prominently among Bozzone's priorities. Just look at the former Junior world champion and 2008 70.3 world champion's Twitter or Facebook page and you'll see a new sponsor-related contest crop up almost weekly, engaging his flock of eager followers. "It's like any relationship in life," he says. "Any avenue you go down has to work both ways. You can't take money from sponsors and not give anything back—you work together to raise awareness. It's a two-way relationship with your fans as well. They support you by giving their time and effort cheering you on and sending you messages. You have to in turn give something back to them and back to the sport."