Like office colleagues catching up at the water cooler, Lindley (coach to top Kona contenders Mirinda "Rinny" Carfrae and Leanda Cave) and Steinmetz (coach to Julie Dibens, training advisor to Craig "Crowie" Alexander and well-known Retul bike fitter) share experiences and insights from their spot on the sideline.
Click here to read other Kona Confidential transcripts.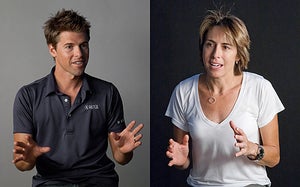 MS: Which athletes do you work with who are racing Kona this year?
SL: Mirinda is returning and also Leanda Cave. It's going to be a really exciting year for both of them. I know coming back to Kona, Leanda has a lot of unfinished business. She had a really tough year last year, just in the last 10 miles of the run with her digestion. We're working a lot on figuring out a way to avoid that happening again. And Mirinda of course, she's very excited to get back.
MS: Yeah, she had a good year.
SL: Yeah, she had a pretty good race last year! It was exciting, and we hope to build upon that. I think this year is going to be so exciting, because the level out there is incredible and I think there are so many people who will be in Kona that will prove to be great threats. It should be an amazing race.
MS: How long have you been working with those two?
SL: Mirinda for about five and a half years now, so its been an incredible journey. She had been in the sport for a while already, but we started together right when she started doing 70.3's. She always had this incredible desire to do Kona; it had always been a dream of hers. She was ready to just get into it right away, but I said, "No, we've got to build up to it, build up that foundation of strength." It's been an awesome journey with her. And Leanda I've been working with for two years now. That also has been incredible. The last race that I raced, she won the world championship in Cancun. That was the last I'd seen her, and now suddenly we're working together and it's an awesome relationship. She's feisty and hungry and just a great athlete. So I'm really lucky. And how about you, who do you have going to Kona?
MS: My situation's kind of unique. I work with Julie Dibens and I do a lot of consulting for Craig Alexander. I work for Retul, so I see all these athletes all the time, and I've even helped Rinny out with her bike fit. I consult and have a lot of athletes bounce ideas off of me, even though I don't have any sort of official relationship with those athletes. But with Craig and Julie both, this is the second year we've been working together. Like you mentioned, Kona is the big daddy for them. Julie and Rinny kind of have the same background where they both did short course and then started doing half ironman's and that just wasn't enough. They want Kona. It's the big daddy for all the athletes, for sure.
SL: You even say it and I get goose bumps! I've heard great things about the work you've done with those athletes, and I'm thankful to you for the work you've done with Rinny, with her bike set up. It's been awesome. I think the funny thing is, the athletes you're consulting and Rinny, they're all such great friends.