Jorgensen burst onto the scene last year by finishing second at the World University Games with a run split that was two minutes faster than her nearest competitor. Now, USA Triathlon's 2010 Rookie of the Year is on her way to the 2012 London Olympics thanks to a second-place finish at the 2011 ITU World Championship Series race in London. Before Jorgensen's amazing race in London, Triathlete magazine asked her about her favorite things.
Training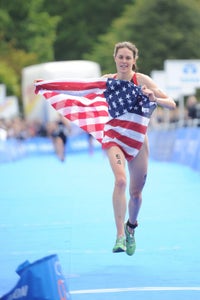 Favorite spot to train: Walter Schroeder Aquatic Center, Milwaukee
Favorite open water location: Lake Michigan
Favorite race: USA Triathlon Elite Development Races. They're close to home and give non-pros the opportunity to race in a draft-legal style format.
Favorite pre-race meal: Bagel with Justin's Nut Butter, banana or oatmeal with raisins, nuts and PB
Hilly course or flat course? I like hilly courses because they pose a challenge.
Race in heat or more temperate weather? Both are good because the heat is a challenge, but it's easier to fuel in more temperate races.
Drafting or non-drafting? Non-drafting!
Favorite piece of gear: Timex Tap Watch—I love it!
Favorite way to get through the pain of racing: I think of why I race and train—to glorify God, and to push others (and myself) to be our best.
Proudest moment in triathlon: Representing the USA in the World University Games

PHOTOS: Team USA In London
Fuel
Favorite post-workout recovery fuel: More Justin's Nut Butter on a banana and PowerBar Protein Recovery drink
Favorite fuel during a race: PowerBar drink
Favorite workout fuel: PowerBar Protein Bites
Favorite coffee: Alterra
Favorite junk food: Ice cream!
Traveling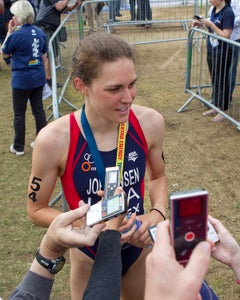 Favorite city to race in: Every race has been in a new city, and I love the adventures because I'm able to experience new cultures every time I race.
Favorite way to avoid bike fees: Smile or just drive my bike in my Honda Insight to the race if it is local.
Favorite way to pass the time in a plane: Sleep, drink water, think about nothing for once, or read.
PHOTOS: Two Americans Qualify In London
Home
Favorite book: The Bible
Favorite charity: Boys & Girls Club
Favorite type of music? Country, pop, alternative
Who inspires you? My family—they are hard-working, down-to-earth and incredibly giving.
Favorite pro triathlete: Sarah Haskins has helped me out in workouts, races and in my big-picture training. She's awesome (along with the many other pro triathletes).
If you weren't a professional triathlete, you'd be? CPA tax accountant and professional eater
More Related Content:
– Jenkins Wins, Two Americans Qualify In London
– Photos: American Olympic Hopefuls
– Gwen Jorgensen Gears Up For Her Sophomore Season