The reigning women's World Champion shares a candid conversation with the woman who was Queen – an unmatched eight times over.
Click here to read other Kona Confidential transcripts.
PNF: How do you feel going in to defend? I know that I was vomiting race morning the first year I went in as defending champion, because it changed things so dramatically for me. I'm interested to know whether you feel that everybody's waiting for you to validate yourself?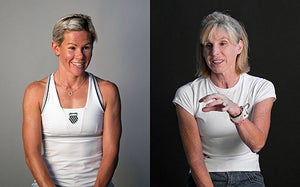 MC: I felt a lot of pressure going into last year's race. Especially the last 30 minutes before the race start, because when that crazy thing happened and Chrissie, the favorite, didn't turn up, I think that was really hard for me. It really brought me into the moment and definitely was a bit nerve-wracking. But since then I feel like – I mean I've already won the race. I've already done something that so many athletes aspire to do, and I've wanted to enjoy this year and enjoy that title. But at the same time, yeah, I want to go back and I want to get faster and I want to get better. And hopefully everybody will be healthier and ready to race on the day. Am I nervous? Definitely nervous. I mean when I lined up for New Zealand earlier this year I was a wreck. It was a race where I wasn't really properly prepared. I like to go into races well prepared; I like to know that I'm ready to race. I never thought that I'd be the nervous type. I've always been quite easy going and able to keep everything in perspective. But in New Zealand, all of a sudden that title made me realize what weight it actually had. I'd never thought that being the World Champion would actually carry such weight. But since then I've been fine, and leading into Kona I'm starting to feel good again. I'm starting to feel like I'm getting back on track and hopefully I'll be able to get to the start line in really good shape and in a good state of mind. But I've yet to see what it's going to feel like.
PNF: That's interesting to hear about New Zealand. You never know until you actually get there, and then you realize everyone is looking to you and…
MC: Expecting.
PNF: Yeah, and the expectation and the weight just builds and builds and builds. I was wondering if it was starting to build for Kona – because obviously we're sitting here [on August 8th] and it starts now. You always hear about Mirinda. And it's the same thing – you look at Kona and you think: Well, wow. All I ever wanted to do was win the world championship once and my life is complete as a triathlete. And then as soon as you've won it, it's just human nature, you think: Maybe I can win it again. And I want to go faster. Because when you come out the other end of it all, you realize that being a little greedy is human nature. If I can do this much, I'm sure if I do more I'll be better. And if I go this fast, I'm sure I can go faster. You keep trying to take. So I guess I was just wondering where you are with that. I also wanted to ask about your training. Do you feel like your training's been adjusted based on last year? More, higher, faster, more, more, more?