Triathlete.com: About a month later you competed in yet another Ironman. How did you manage to recover and prepare for the second one?
Ellis: Well I actually felt OK about a week or so after the first one. It's hard, but I think a hard 70.3 tires me almost as much as the Ironman. I guess it's a different kind of sore tired after an Ironman. But I felt pretty good. Actually I did a race in between—the Alpe d'Huez Triathlon. It was fun; we kind of made it into more of an adventure. We rode our bikes over there from Switzerland, so it was about 200 miles there over two days, and then we did the race and then rode our bikes home. That definitely made me mentally and physically strong. So when I went to Germany, I actually had some issues during that race, but I think I was able to get through it. I thought for a while I was going to have to drop out of the race, but I ended up getting through it. I think part of it having that trip to the Alpe race and getting through that race being tired, I soldiered on and really didn't think I'd even finish in Regensburg but managed to still get the win, but I was just happy I didn't give up at any point.
Triathlete.com: You've come so close to winning the 70.3 World Championship—twice [2008 and 2009]. Any plans to race that again?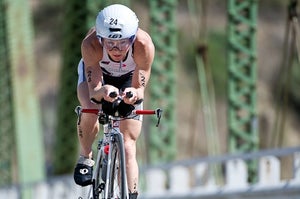 Ellis: I was hoping to, but I don't have enough points to get into Kona … so I'm going to have to race Ironman Canada next weekend. If I want to go to Kona, I basically have to race there. The original plan was to try to go to 70.3 worlds, but at this point if I pull up from Canada and feel OK, I'll probably attempt it, but I'll just play it by ear.
Triathlete.com: So you have Canada, then you have Kona maybe, and then a wedding in December—how's the wedding planning going?
Ellis: Um, pretty good. Before I left, in February, March and April, I tried to nail down as much of the stuff that needed to be scheduled ahead of time, so we got the venue, the flowers and the dress—all the big vendors nailed down. I'm sure when we get to October, November, there will be a million little things that I'll be trying to scramble and get done, but most of the big decisions are pretty much nailed down.
Triathlete.com: So how are you feeling about maybe racing Kona?
Ellis: It's hard because I haven't really made it there. But as soon as I get there, yeah, I'm excited. I mean, I would just love the opportunity to get there and race and see how it goes because I think Ironman is probably my best distance. And Hawaii's always hard—there's always great competition, so if I can get there, I'd love to get there and race.
Triathlete.com: How do you feel about the pro ranking system this year?
Ellis: I think overall it's a step in the right direction. I think there's just a few issues. One of my concerns is just—on the women's side, having only 30 women versus 50 men, but then having the point system be the same. So basically having 30 women versus 50 men, they're saying that our depth of field is only 60 percent of what the men is, but then the points don't drop off accordingly. … They've already made this judgment, right or wrong, that the fields are that much weaker, so I think the point system should reflect some of that. And then the only other concern I have is the way they're devaluing some of the longtime races, like the New Zealands and the Lanzarotes. And they've made it where somebody like Cam Brown has now had to scramble a little bit to make sure he would get in, just because he wanted to keep doing the race that he's always winning. But overall, I do think it's definitely a step in the right direction, and I think they're doing a lot of things right. It's exciting from a pro's perspective just to see them taking some initiative and trying to make the system even better.