American pro Mary Beth Ellis has had a busy summer. She finished in 8:43:34 on July 2 at Ironman Austria—her very first Ironman—and now only Chrissie Wellington and Rebekah Keat have ever raced faster than Ellis at the iron distance. She followed Austria with a runner-up finish at Alpe d'Huez and then a win at Ironman Regensburg earlier this month. A pro since 2006, she had a disappointing year in 2010, plagued by injury and sickness, but the Boulder-based pro may now have found her best racing distance. Ellis called us from TeamTBB camp in Switzerland via Skype to chat about her Ironman debut, joining TeamTBB and what's next in her season.
Triathlete.com: So you're in Switzerland now—how long have you been there?
Ellis: Since mid-June. A little over two months.
Triathlete.com: And then you just popped over to Austria and Germany to win Ironmans?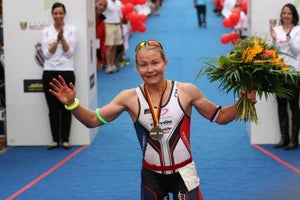 Ellis: Yeah. It's been nice to drive to races over here instead of having to pack up the bike. I drove to both of those, which is nice.
Triathlete.com: How have you enjoyed living/training in Europe?
Ellis: It's been interesting. I've never spent any extended time in Europe, so it's been great. I mean, I ran in college, so I never had the whole semester abroad, so I'm getting to see the Alps and seeing some parts of Europe that I didn't necessarily get to see. I think anytime you can change stuff up, it's always good for you. At home, you always do the same training routes with the same crew, so it's kinda nice sometimes to get out of the comfort zone.
Triathlete.com: What made you decide to go with TeamTbb?
Ellis: I spent most of 2010 either sick or injured and was just at a point where [I was debating between] moving on or giving it one more shot in triathlon. It was December, and I was thinking about what I wanted to do and had always in the back of my mind thought about that or talking to the team, just from the sense of wanting to give it one more good shot in the sport, and [then] I'd either succeed or move on. So yeah, I contacted them in December, and they gave me a shot. I went over to Thailand in February, which was a good learning experience and another place I haven't spent much time, so that was great. And then, yeah, was in Thailand for a bit and then over here for the summer.
Triathlete.com: Why did you decide to do an Ironman for the first time this year?
Ellis: That actually was on my mind after all my—I was thinking Ironman was where I would be more successful, but I was still holding onto the Olympic aspiration. And after last year, I just decided I had done too many different distances—70.3, Olympic non-drafting and then ITU, and it's hard to do the ITU type of races. Some people are successful doing other stuff with it, but for me, after last year, I didn't do anything well, so I was like, 'I need to focus on where I think I'll have a little more success, so I'll try some Ironmans.'
Triathlete.com: How has Brett Sutton influenced the way you train or race?
Ellis: I don't think it's really that different. Perhaps the difference is having a coach that you see a lot more, especially in a camp situation. You see your teammates and the coach every day, if not multiple times a day, which I think is invaluable. But as far as the actual training, I mean, I don't think it's any secret—everybody in the sport works hard. I tend to want to train until my leg falls off, and he's been good about holding me back at certain times and pushing me at other times. It's been good having that eye on you to just tell you when to back off and when to keep going.
Triathlete.com: How are you feeling now after a year of injuries?
Ellis: I've had a little bit of issues, but nothing too big this year. It's been, relative to the last few years, relatively injury free. I think everybody has a niggle here or there, or stuff that comes and goes throughout the season. It's part of the nature of being an athlete—there's always something you have to deal with, but yeah relatively injury free.
Triathlete.com: Obviously you had a great result earlier this year at Ironman Austria—how did it feel to join the sub-9:00 club on your first attempt?
Ellis: It was amazing. I was hoping, I thought if I had a great day I could be around nine hours, so to see that time on the clock when I finished, I was really surprised. …
It was one of those races where things pretty much, you know if you could have scripted it, it went, excluding the last 10K of the run—which, I guess your first Ironman it should hurt pretty badly—but excluding that, it pretty much went better than I could have expected.