It's one of the sport's marquee races along the country's most scenic city skyline, and triathletes show up by the thousands.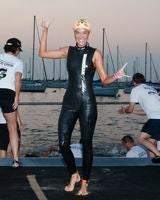 The race itself and host city combine to make the weekend a can't-miss experience, but the event's massive size does present some struggles. If you're heading to Chicago for the race this weekend, take advantage of the best aspects of the Life Time Chicago Triathlon while avoiding the hassles.
1. Be Ready For A Wait
Transition closes at 5:45am but waves go off for hours after that. If you're in a late wave, make sure you bring enough clothing, food, drink and maybe a comfortable place to sit while you wait for your wave.