Australian Chris McCormack's third ITU World Championship series race of the year didn't go as planned. After battling a hamstring injury over the past few weeks, McCormack was forced to drop out of the race early in the bike in London. Inside Triathlon editor-in-chief Courtney Baird chatted with McCormack about how he plans to overcome the injury and what he thinks about the Brownlee brothers' domination of ITU racing.
Triathlete.com: I was standing at the swim exit and saw that you missed the main bike group. Could you let me know what happened with that? How did it happen?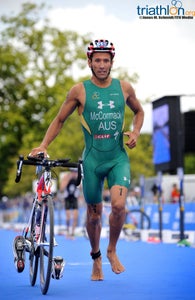 McCormack: After my pre-race warm-up we knew I was not going to be able to compete in the race. I went to my team 45 minutes before the race start and said, "I am out." I had a grade one tear in my hamstring I had pulled the week prior, and we had nursed it back to a place where we would assess whether being able to start in any capacity would work. After a couple of pace run throughs in warm-up, my day was over. We talked as a team and being so close to the race start they suggested I jump in and just swim and ride a few laps of the bike to see how it goes. My head was not in it to be honest with you. You're not in the right place starting an Olympic trial with an injury, and I was really down. From the dive I knew I would have issues and with the six-beat kick in the swim, my leg just got tighter and tighter. I was swimming with the group for probably 1,200 of the 1,500 meters, but around the last buoys I had to sit up for fear of pulling the hamstring. It was more embarrassing than anything else, as I have been swimming and training so well. My focus was a great performance here in London and being very new to this injury game, it has been a very tough last 10 days, I will say.

PHOTOS: Chris "Macca" McCormack
Triathlete.com: What does the injury mean for the rest of the season?
McCormack: I am in London now and had an MRI last night to get the results back on the severity of the tear. We are hoping it is only grade one and no major issues, which will derail the season. From the post-race treatment, the feedback has been relatively positive. I am 100 percent out of the Lausanne race, which is a real bummer as the team event would have been something I would have enjoyed. I think it will be two to three weeks of no running, which is disruptive in this style of racing, but I want to be back to running by Beijing. I will have a real go in Beijing, that's for sure, and it will be what London was supposed to be for me. I will hopefully go across to Yokohama as well and then move back into Australia and prepare for the season events at home and then the early season ITU races. My focus now is on getting this entirely sorted and right. Having never had a real injury in a season like this before [means this] is a new game for me. The positive is we know where we can take the work to, be more delicate in this high speed running and bring my threshold down off the track, which will be better for me in the long term.