These female entrepreneurs saw a need in the endurance world and filled it. They own and operate businesses, all while managing to continue to train and race. These are their stories, sprinkled with a little advice.
Nicole DeBoom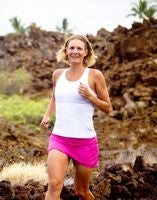 Skirt Sports
Boulder, Colo.
Skirtsports.com
Out on a run on a cold, winter day, Nicole DeBoom passed by a store window and saw her reflection. "I looked like a boy," she said. So she went home and wrote the word "pretty" on a slip of paper. That paper still hangs on the walls of the company headquarters of Skirt Sports to this day.
DeBoom was on the triathlete circuit since 1994 and raced professionally from 1999-2005. "I always followed the motto 'Look good, feel good, perform better.' I felt like this would raise my level of confidence and I'd do better in races," said DeBoom. But she always felt frustrated with the lack of feminine work out attire on the market.
So DeBoom, wanting to do what Juicy did for sweats, came up with the "work out skirt" and went to school. "I took classes at the local chamber of commerce and learned from the ground up," she said. She followed two pieces of advice: 1. Focus the product—rather than 10 pieces of clothing, she focused on just the running skirt.  2. Make some prototypes and test it.
As a triathlete, DeBoom tested the running skirt during the marathon at Ironman Wisconson in 2004, which she ended up winning. "It was kind of a perfect storm: testing the product and winning my first Ironman with it," she said.  In 2005, Skirt Sports made its debut at a marathon expo and in 2007, DeBoom launched the Skirt Chaser 5K series with events in Tempe, Ariz. and Denver, Colo.
Currently, Skirt Sports has 13 employees and has experienced a 30-40 percent growth over the past few years. "In this economy, that's good. We've staying strong," said DeBoom. "People told me it would cost more and take longer than you think, which is true. But I've had persistence and worked hard. If you have a 100 percent unwavering belief in your product, it will be successful."
Fun fact: Skirt Sports offers a program called "Kick It Forward." "I get asked to sponsor a lot of events and I thought is this $500 going to help my business?" said DeBoom. So rather than just always sponsor races, she uses the money the help others. The program financially assists women who have barriers to fitness. It pays for their entry frees and offers them one-on-one mentoring. "It's brand aligned, but it's something different and makes us feel good," said DeBoom.