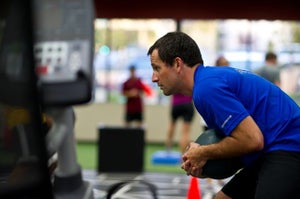 Plus, the team loves to work with triathletes and their coaches to make their strength program match their training plan. (RU also has its own coaching program through a separate company, Catalyst Endurance Coaching.) If an athlete is in a build phase, strength will be in a build phase, and he or she will adjust the reps, weights and type of exercises to correspond. If someone raced a half-Ironman on Sunday, they can come to class on Monday for a mobility and stretching program for recovery.
Triathlete Beth Walsh saw vast improvements in her performance and functionality after going to Tri-Strength. Four months after beginning the program, she went from "nowhere near the podium" to winning her age group at Ironman 70.3 California and a spot to Kona.
"Prior to RU, I had a femoral fracture, illiopsoas tendinitis and several other injuries in the sport due to overuse and muscle imbalances," Walsh says. "After RU, I have been—knock on wood—consistently injury-free. The strength work, plyometrics, explosive movements, etc., gives me the boost to hold more power and better form in longer races." She had the fastest amateur run split at both Ironman St. George (3:23) and the Ironman World Championship in Kona (3:10) in 2010, and directly relates it to all of the work she's done in the program.
RU's programs also focus on mobility and dynamic warm-ups, as Bryan believes that stretching before and after exercise can significantly change what your body responds to during a workout. He says he's been to every group ride in San Diego and rarely sees athletes stretch ahead of time. But that doesn't stop him from going through an elaborate dynamic stretching routine before every ride or race.
"We want to create the most power possible in our sport," Bryan says. "The longer we are, the more powerful we are, the faster we're going to go. But if every time we do a long ride and we sit, eat and we never stretch, we get shorter and shorter and shorter. The shorter we are, the more at risk we are for injury."
At its core, Rehab United is a place where people go to get healthy. Bryan and Sean Hill want it to serve as an umbrella over multiple opportunities.
"Sometimes when you hear 'rehab,' and you're not hurt, you don't want to go," Bryan says. "But we want it to be a place that's welcoming to everyone. If you want to come get a massage to feel good, great. If you have certain goals and want to get personal training, great. And if you want to do a race—whether it's your first tri or you're trying to qualify for Kona—we want you to come to us. And ultimately if you do get hurt, we want you to have a place that feels like family, like your home."