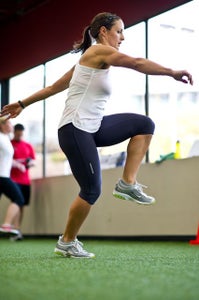 "Functional training" is a term that gets thrown around a lot in the triathlon world, and there's often the misconception that it's certain tools, such as stability balls or resistance bands, that define it. "Our definition of function is purposeful training and purposeful movement," Robinson says. "It's really the strategy of developing exercises rather than the particular exercises that you choose." Whether you're rehabbing, preventing injury or boosting power, RU believes you should do movements that simulate your sport.
Take a typical triathlete problem area: the iliotibial band. Typically you would foam roll it, ultrasound it, massage it and get the Theraband out and do leg lifts—all things Bryan calls "symptom treaters."
"Jane Fonda sets are the go-to in the 30-year-old physical therapy world," he says. "But your IT band hurts when you're running—not when you're sleeping. So why are you doing an exercise that looks like you're sleeping?"
The PTs look at every injury with an emphasis on treating the symptoms, not the causes. Using "Chain Reaction" biomechanics, they analyze everything from the big toe to the head to determine the real source of your injury. By assessing weaknesses and imbalances in different parts of the body, they've been able to design state-of-the-art injury prevention strategies specific to each patient.
"The nice thing about doing resistance training with a functional approach is that you're putting the body in more sport-specific and natural positions all the time," Bryan says. "We break down each body part into planes of motion and assess limitations. You can almost find injuries before they happen."
Although the patients speak the virtues of Rehab's ways, the brothers are still working to change some doctors' mindsets. The typical doctor-to-PT relationship is pretty one-sided: Patient goes to doctor. Patient gets a prescription. Patient goes to therapy. But because RU is heavily involved in the community, word-of-mouth brings many patients to its free injury screenings before they head to the doctor. They can decide whether an injury is treatable by PT or if they should go to a specialized physician.
"We can screen them and say, 'This might be fractured,' and give them options on who to go see and they love it," Sean says. "In an ideal world, we'd like to see that be more reciprocal. We want the doctor to feel more connected to the physical therapy program. We prefer doctors who e-mail or pop into the facility to see what's going on. That's the kind of relationship we're trying to create—a team approach."