You won't see any Jane Fonda leg lifts at San Diego's Rehab United. Here's how the RU team's unique approach is redefining physical therapy.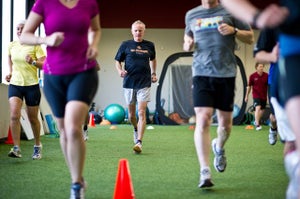 It's a typical chaotic night at Rehab United Physical Therapy and Sports Performance Center. In one corner, an ankle-sprained lacrosse player rolls a boulder-sized lumpy ball across the floor. In the center of the room, a group of middle school squash players hop on one foot through a mock ladder taped on the ground. An older gentleman with a new knee replacement performs walking lunges. On the Astroturf to the right, a dozen triathletes run through eight circuit stations: Some push a 45-pound plate across the "grass," two sumo squat back and forth with resistance bands around their ankles, others scissor kick in the air until they hear "stop!"
Rehab United blurs the line between physical therapy, personal training and sports performance, creating a dynamic athletic environment in all three of its San Diego locations. This isn't a traditional PT office where you'll see patients lying on tables in private rooms or cranking out reps on leg extension machines. This is a place where a soccer player recovering from ACL surgery will jump, shuffle and squat in all directions, fulfilling RU's motto: "Train the Way You Play." To some, the unconventional approach seems a little crazy.
"People expect a PT clinic to be manual," says Justin Robinson, RU's director of strength and conditioning and director of nutrition, among other titles. "You're on the table, having someone do stretches for you. For us, it's the opposite. We have someone standing 90 percent of the time. As soon as we can, we have people doing things that look like their activity, whether it's just walking up and down stairs or racing another Ironman."
Owners and brothers Bryan and Sean Hill were exposed to physical therapy after Bryan, a former all-American soccer player, broke his femur in an indoor game in 1991. They both found their calling during Bryan's rehab process and opened the first RU facility in 2003. Together the brothers built a team of rock-star coaches, physical therapists and personal trainers who hold the kitchen sink of certifications—CSCS, USAC, MPT, USAT, FAFS, RD, ACE and MA, to name a few. What sets RU apart is its functional treatment for both rehab and strength conditioning, using fundamentals of Applied Functional Science taught by the internationally acclaimed Gray Institute.