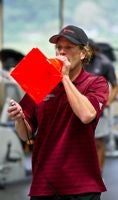 As a triathlon and running coach, I've had my fair share of frustrating athlete experiences. One that comes to mind was a girl who, against my and her doctor's wishes, insisted upon running her first marathon after being too injured to get through more than an 11-mile training run (she somehow hobbled through). Or there's the guy who refused to do hill repeats I assigned until he built up his leg strength in the gym. Seriously.
I knew other USAT coaches would have some pet peeves to share, and I was right. Although they love their athletes, these coaches—who shall remain nameless—told me some of the things you do that they wish you would stop doing.
RELATED: Do You Have A Triathlon Coach?
1. You lie about workout results.
You may have missed a workout or wished you had run faster, but inflating your workout numbers drives your coach nutty—and hurts your future training. One coach discovered her client's true habits via social networking. "When I see unexpected performance drops and bonks when they should be doing great, it's time to start probing them for answers. I have found Facebook can tell me a lot about their habits. They don't realize that I see all those drunken photos and the pictures of the giant food plates!"