Seattle triathlete Garth deCocq is the lucky winner of the Triathlete Trek Speed Concept 9.9 bike, valued at more than $9,000. "I still can't believe it!" said the 62-year-old, who's been doing triathlon for the past seven years.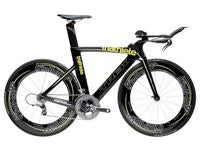 "I saw the video with Chris Lieto talking about the bike, and thought, 'A triathlon god is touching it!"
A competitive age-grouper with multiple podium finishes to his credit, Garth, focuses on long-course racing. His wife races Ironman, and both are already big Trek fans. "We both ride Trek bikes and love them, so this is really exciting," said Garth.
Look for Garth riding his new Trek Speed Concept at the Black Diamond Half Ironman (Enumclaw, Wash.) in September and the Pacific Crest Long Course Triathlon in Sunriver, Oregon.
Party on Garth!