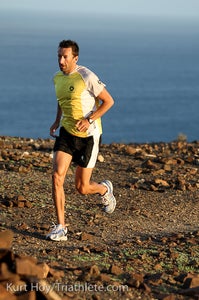 Belgium's Marino Vanhoenacker crushed the record for fastest Ironman by going 7:45:58 to take his sixth-straight Ironman Austria victory. The former record of 7:50:27 was set by fellow Belgian Luc Van Lierde back in 1997 at the Ironman European Championships. In the women's race, American Mary Beth Ellis turned in a stunning Ironman debut, leading wire-to-wire to take the 8:43:34 victory.
PHOTOS: Marino Vanhoenacker's Scott Plasma 3
Vanhoenacker started the day off with a solid 46:49 swim time. From there, he only got faster. He posted a field-leading 4:26:37 bike split to head on the run with a sizeable lead. Despite the margin, Vanhoenacker pushed the pace on the run. His 2:39:24 marathon was easily enough to give him the record and the victory.
TEN QUESTIONS: Marino Vanhoenacker
Ellis, now a member of Team TBB, also took her victory in convincing fashion. Her 48:07 swim time put her out of the water ahead of many of the top male contenders. Once on the bike, Ellis continued to cruise and ultimately posted a 4:48:20 bike split and a 3:01:29 marathon to take her first Ironman victory. Former Team TBB member Erika Csomor of Hungary earned second in 8:51:10 thanks to a strong run. Another Teamm Tbb member Diana Riesler of Germany posted the fastest bike split of the women to take the final podium spot.
Ironman Austria
Klagenfurt, Austria – July 3, 2011
2.4-mile swim, 112-mile bike, 26.2-mile run

Men
1. Marino Vanhoenacker (BEL) 7:45:58
2. Michael Weiss (AUT) 7:57:39
3. Marko Albert (EST) 8:08:17
4. Tom Lowe (GBR) 8:11:30
5. Stephen Bayliss (GBR) 8:16:47
Women
1. Mary Beth Ellis (USA) 8:43:34
2. Erika Csomor (HUN) 8:51:10
3. Diana Riesler (GER) 8:53:34
4. Heleen Bij de Vaate (BEL) 8:56:11
5. Eva Dollinger (AUT) 9:05:13