Danish pro Rasmus Henning, a two-time Olympian and the winner of the 2010 Challenge Roth, will now be coached by San Francisco-based Matt Dixon of Purplepatch Fitness. Henning and his coach of 12 years Michael Krüger parted ways amicably.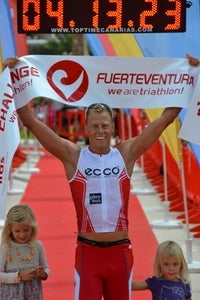 "I have developed into a world-class triathlete with the help of Michael Krüger and have had many great victories," Henning said in a press release. "This is a mutual decision and what is best for me. Michael can now turn his full attention toward the next generation of Danish triathletes."
Dixon has been coaching pro Chris Lieto since 2008, including through his runner-up finish at the Ironman World Championship in 2009. Henning believes that Dixon will help transform his own racing in Kona: "My new partnership is a step on the way to optimize my chances of winning in Kona," Henning said.
Dixon also coaches several pro triathletes, such as Montana-based Linsey Corbin, Arizona-based Samantha McGlone, and Aussie Luke Bell. "I find it important to work with athletes who truly can enjoy the process and journey; I believe that Rasmus will fit perfectly into the family of elite athletes at Purplepatch Fitness," Matt Dixon said in a press release.
With the Ironman World Championship less than three months away, Dixon won't completely change Henning's training.
"I feel that Matt is already really committed to my life and career, and I see great strengths in his unique balance between training and recovery. He puts a lot of energy into the timing, quality and quantity of recovery and this along with the mental aspect is what we turn our focus to this year, as Ironman Hawaii is less than three months away. We will only make small adjustments to my physical training before Kona this October," Henning said.
Dixon looks forward to working with Henning, especially in the next few months: "From the initial planning and discussions it is apparent that Rasmus does a lot right in his training and program, but I do believe there are several refinements and new approaches that will enable us to build on the good, and make great. I am excited for the coming few months leading into October's Ironman Hawaii, but equally excited to where he can evolve to in the coming couple of years. I think it is critical when beginning a coaching relationship with such an established athlete to not simply force a new type of program into an already successful one. It is critical to understand what has worked, but also evolve and enhance it to allow even greater performance. It will be an interesting and enjoyable journey for all of us," Dixon said.
Visit Purplepatchfitness.com for more information.