Since Roth, Germany, started hosting iron-distance events in 1988, both male and female pros have broken eight hours nine times on Roth's course. Make that ten; both Andreas Raelert and Chrissie Wellington set new world records today, at 7:41:33 and 8:18:13 respectively. No wind, and perfectly sunny weather in the 60s and low 70s helped Raelert blow up the men's field, but it was anyone's race for second and third in the women's field right until the finish.
Written by: Erin Beresini
Men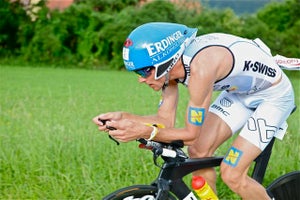 The pros jumped into Roth's canal at 6:30 a.m. eager to prove themselves. Raelert took control early in the swim, but even his speedy, smooth stroke was no match for fast Frenchman, Benjamin Sanson, who came out of the water first in 46:11 followed by Christian Ritter and crowd favorite, German Olympian Raelert. Never one to disappoint is fans, Raelert jumped to the front on the bike. Sanson was the only guy physically able to stick to Raelert's blistering fast pace for the first 45K, but Raelert's fellow countryman, Sebastian Kienle, wouldn't let Raelert go without a fight. Midway through the ride, Raelert almost collided with an age grouper and Kienle stayed hot on his tail about a minute back, but by 117K Kienle started to fade and Raelert hit T2 4:35 ahead of him. Raelert dominated the run so much that spectators forgot he was racing other people and began to speculate whether or not he would set a world record. The crowd goes wild during Raelert's last 2K and he nabbed the record, leaving his competitors to trickle in behind him.
Women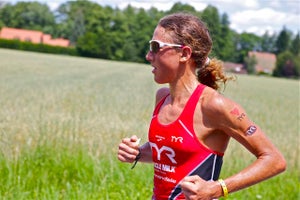 It seems like any race with Chrissie Wellington in it is really a race for second, and today was no different. Wellington exited the water first with several male pros, with New Zealand's Belinda Harper hot on her wake. Going into the bike, Rebekah Keat, who was touted as Wellington's toughest competition in Roth, was trailing by 1:33. Also in the mix was German hope and Roth rookie, Julia Wagner. But from the start of the bike, Wellington began putting time into her competitors and never let up. Keat and Belinda Granger worked together (as much as legally possible) to try to reel Wellington in, but to no avail. It seemed the Germans had no hope for a female win at this 10th Anniversary Challenge Roth. Wellington biked a 4:40:39 to take off on the run 12 minutes ahead of Keat and Granger. With 4K to go, speculations about Wellington's setting a world record begin to fly—and the Brit doesn't disappoint. In her third Roth start, Chrissie wins for the third time and lowers the world record to 8:18:13, leaving Wagner and Keat to duke it out for second. Wagner takes second.
Challenge Roth
Roth, Germany – July 10, 2011
2.4-mile swim, 112-mile bike, 26.2-mile run
Men
1. Andreas Raelert (GER) 7:41:33
2. Sebastian Kienle (GER) 7:57:06
3. Keegan Williams (NZL) 8:16:01
4. Felix Schumann (GER) 8:18:05
5. Christian Ritter (GER) 8:18:40
6. Andrej Vistica (CRO) 8:19:19
7. Gilad Rotem (ISR) 8:20:11
8. Lothar Leder (GER) 8:22:00
9. Andriy Yastrebov (UKR) 8:24:34
10. Andreas Borch (DEN) 8:25:38
Women
1. Chrissie Wellington (GBR) 8:18:13
2. Julia Wagner (GER) 8:56:23
3. Rebekah Keat (AUS) 8:59:22
4. Belinda Harper (NZL) 9:06:47
5. Belinda Granger (AUS) 9:12:56
6. Heike Priess (GER) 9:40:01
7. Alma Sarapuu (EST) 9:41:42
8. Cindy Lewis (CAN) 9:45:56
9. Celia Kuch (GER) 9:47:13
10. Annett Finger (GER) 9:47:25