This Sunday's Ironman Lake Placid in upstate New York features strong showings for both the pro men's and women's races. The second oldest Ironman in North America will take more than 2,500 athletes through Mirror Lake and the Adirondacks with a finish on the Olympic speed skating oval. The course is considered one of the toughest in the Ironman circuit, especially due to the hilly bike course, so the race is drawing some strong cyclists to compete for the $75,000 prize purse.
Men's Race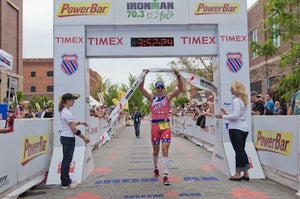 The men's starting lineup includes last year's winner American Ben Hoffman, who won 70.3 Boise last month and 70.3 Muncie this month, as well as placed fourth at Ironman St. George. Aussie Luke Bell, who's been called the best Ironman athlete to not win an Ironman, looks to capture the title after some strong 70.3 performances this year (winning 70.3 Hawaii and finishing second at 70.3 St. Croix), plus a third-place finish against a stacked field at Ironman Texas. German athlete Torsten Abel, who's sitting just one spot outside the top 50 in the Kona Pro Rankings, qualified at Ironman Texas this year with a 10th-place finish. American TJ Tollakson won 70.3 Eagleman last month and was on the podium at Ironman St. George this year, and he'll be looking to use his strength on the bike at Lake Placid. Also racing are American Tim Snow, who placed fifth at this race last year, and Australian Jason Shortis.
Women's Race
On the women's side, it looks to be a close matchup between two strong cyclists. American Tyler Stewart of the LUNA Pro Team is one of the fastest cyclists in the sport and this season recorded a new bike course record at Ironman Cozumel, where she finished in second, and had the fastest bike split at the inaugural Ironman Texas, where she finished fourth. Canadian Heather Wurtele will undoubtedly put in a good showing on the hilly course, as the two-time Ironman St. George champion. While Stewart and Wurtele are sitting safely within the 30 allotted women's slots in the Kona Pro Rankings, Team Trakkers pro Jacqui Gordon looks to move up from 41st position after finishing eighth at Ironman Texas earlier this year. Also racing will be Kristin Lavarone, who finished 11th at Eagleman 70.3; Amber Ferreira, who finished eighth at Lake Placid last year and seventh at Ironman St. George this year; and Jackie Arendt, who was the St. George runner-up this year.
Check back to Triathlete.com on Sunday for results and a report on Ironman Lake Placid.
See also: