The Frankfurter Sparkasse Ironman European Championship takes place this weekend in Frankfurt, Germany and is considered the second most important full Ironman distance event—after the world championship in Kailua-Kona, of course.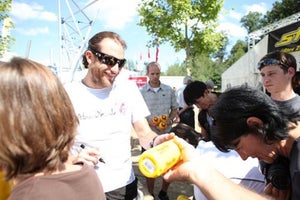 This race is an official qualifier for the 2011 Ford Ironman World Championship and will be awarding 100 qualifying slots for Kona. Athletes will start the race in the Strandbad Langener Waldsee lake with a two-lap swim course with a short running passage between the laps. Heading out onto the bike course, racers will have a 15K connection that leads them from Langener Waldsee into downtown Frankfurt and onto a two-loop course that will take them out onto the scenic landscapes of the German countryside. Out of the course, athletes will endure Bad Vilbel Main road with its steep incline, but it will be crowded with spectators that rival numbers seen at the Tour de France. The race will end with a flat marathon run along the Main river and athletes will be treated with views of the downtown skyline. The finish line is at Romerberg, a site with a rich history—German kings were crowned there.
On the professional starting list this year are mostly European triathletes looking to gain Kona points at an event close to their training grounds. Andreas Raelert, last year's winner, is not back to defend his title. He just broke the iron-distance world record at Challenge Roth. His brother, Michael, was on the starting list, but dropped out due to a hip injury. Promising podium finisher this year is Germany's Faris Al-Sultan, a long-course champion and one of the favorites to win. He has earned victories at the 2005 Ironman World Championship and Ironman Arizona. Cameron Brown of New Zealand will also be toeing the starting line. Brown is having a successful 2011 with titles at Ironman New Zealand and Ironman 70.3 Korea. He placed fourth in this event last year.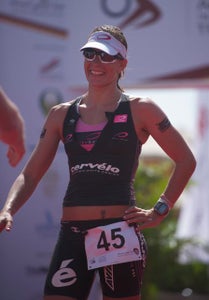 On the women's side, last year's winner, Germany's Sandra Wallenhorst, is not on the starting list. But Caroline Steffen of Switzerland, who placed second last year, is back, hoping to move up one notch this year and take home the title. Samantha Warriner of New Zeland is also one of the podium favorites. Warriner earned a win at Ironman New Zealand earlier this year. Yvonne Van Vlerken of the Netherlands placed third last year and is back again. Van Vlerken is a two-time winner of Challenge Roth and one of a small group of females to have recorded three or more sub-nine hour finish times in an iron-distance race.
Professional Lineup
Men:
Faris Al-Sultan, GER
Cameron Brown, NZL
Michael Göhner, GER
Patrick Vernay, FRA
Uwe Widmann, GER
Jan Raphael, GER
Frank Vytrisal, GER
Bert Jammaer, BEL
Luke McKenzie, AUS
Stephan Vuckovic, GER
Paul Amey, GBR
Simon Billeau, FRA
Andres Castillo, COL
Bruno Clerbout, BEL
Trevor Delsaut, FRA
Mikel Elgezabal, ESP
Erich Felbabel, ESP
Hirotsugu Kuwabara, JPN
Sandi Ivancic, SLO
Freddy Lampret, RSA
Andrey Lyatskiy, RUS
Mike Schifferle, SUI
Daniel Schmoll, GER
Gudmund Snilstveit, NOR
Ivan Tejero, ESP
Craig Twigg, GBR
Michael Wetzel, GER
Dirk Wijnalda, NED
Thomas Hellriegel, GER
Per Bittner, GER
Balazs Csoke, HUN
Pedro Gomes, POR
Marc-Andre Hages, GER
Jonathan Hotchkiss, GBR
Matjaz Kovac, SLO
Teemu Lemmettylä, FIN
Marek Nemcik, SVK
George Potrebitsch, GER
Horst Reichel, GER
Alejandro Santamaria, ESP
Sylvain Sudrie, FRA
Shinya Suganuma, JPN
Marko Albert, EST
René Göhler, GER
Stefan Riesen, SUI
Marcel Bischof, GER
Women:
Caroline Steffen, SUI
Yvonne Van Vierken, NED
Sonja Tajsich, GER
Joanna Lawn, NZL
Meike Krebs, GER
Nicole Leder, GER
Amanda Balding, AUS
Heleen Bij de Vaate, NED
Tine Deckers, BEL
Susan Dietrich, GER
Silvia Felt, GER
Fernanda Keller, BRA
Saki Kubota, JPN
Sarah Schütz, SUI
Inka Wachter, GER
Mirjam Weerd, NED
Nicole Woysch, GER
Lucie Zelenkova, CZE
Simone Benz, SUI
Olja Bregar, SLO
Uli Bromme, GER
Desiree Ficker, USA
Dede Griesbauer, USA
Kristin Möller, GER
Samantha Warriner, NZL