Germany's Michael Raelert will not race in this weekend's Ironman European Championships, due to a hip injury that has plagued him on and off throughout the year. Without the Ironman start, Raelert will not meet the qualifications needed to race in October's Ironman World Championship race in Kona, Hawaii. Raelert posted the following statement on the website he shares with his brother Andreas (translated from German using Google Translate):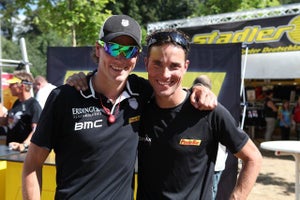 "My training and preparations for the debut at the Ironman-distance have been on schedule since the beginning. In the spring I felt localized pain in the hip area after the harder workouts, but it then immediately disappeared again. For me there was no reason for concern, because this has happened from time to time with large training volumes in the past. My first start of the season last weekend at the Schwerin Castle Triathlon was perfect as the final test of form! Despite the short distance, I had hip pain at night after the race, immediate physical therapy and chiropractic treatment and showed the expected relief, but the pain came back again on Monday. New therapeutic treatments on the same day and on Tuesday, unfortunately did not bring the desired results. Based on the length and difficulty of Ironman Germany on Sunday, I did not see a start as justifiable given my health. The risk is too large, especially in regards to the rest of the season. With Wiesbaden, Las Vegas and Kona being very important to me I want to avoid the potential risks and further damage. I very much regret not participating in the race after months of preparation. Like many other triathletes, I had been looking forward to this day!"
Despite what Raelert says in the statement, under the new Kona qualification rules he is technically not eligible to race at the Ironman World Championship in Kona unless he competes in an Ironman race before Sept. 1.
K-Swiss, a main sponsor of the Raelert brothers, had offered a $1 million bonus if Michael and Andreas could finish first and second in Kona. Andreas, who broke the world record for fastest iron-distance race earlier this month at Challenge Roth, also needs to validate his qualification by competing in an Ironman race.
RELATED CONTENT:
– Photo Gallery: Raelerts Aboard BMC In The Canary Islands
– The Raelert Brothers' New Ride?
– Exclusive Video: Inside the Raelert Brothers' Spring Training Camp
– Triathlete.com Exclusive: Raelert Brothers Training In Canary Islands
– Video: Andreas Raelert Receives Support From Brother Michael
– Video: Michael Raelert To Race Ironman European Championships